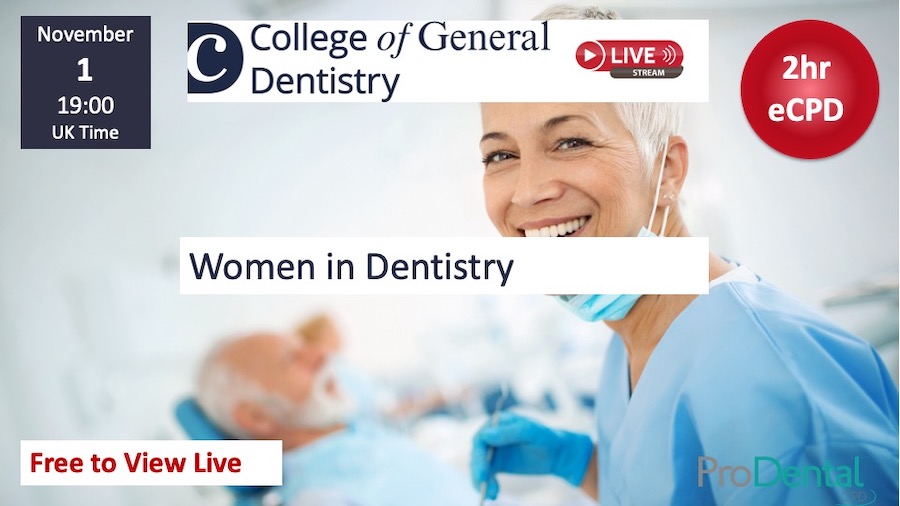 Monday 1 November 2021, 7pm
Hosted by CGDent and ProDental CPD, this webinar is part of our PDJ Live series, which discusses issues and topics highlighted in the College's member journal, Primary Dental Journal.
In this interactive webinar, we will examine the area of women in dentistry and the positive gender balance taking place in the profession throughout the UK. We'll also look at the continuing inequality of women in leadership roles and specialties, considering the challenges for women in dentistry and how to make positive change.
To register for the event, please visit: https://www.prodentalcpd.com/webinars/p139-women-in-dentistry-
This webinar is part of the new partnership between the College of General Dentistry (CGDent) and ProDental CPD.
It will be free to view live for all members of the dental professions. CGDent members and ProDental subscribers can claim CPD hours for free and have access to the recording after the event. A £20 fee will apply for non-members/non-subscribers who wish to claim CPD.
Membership of the College of General Dentistry is open to all registered dental professionals. Membership for dentists is available from £94, and for other registered dental professionals from £33. The full list of CGDent membership rates is at https://cgdent.uk/membership-fees/.