Certified Membership
Certified Membership is the College's new, enhanced membership scheme, offering authoritative recognition and augmented career support to the full oral healthcare team.
It is the mark of professionalism in General Dentistry. As a Certified Member, you will be recognised as a committed professional – all the more important, in the confusing world we now face.
Register your interest to learn more.
What's different about Certified Membership?
Membership of the College says something important about you: it marks your commitment, your aptitude, and your appetite to work to the highest level in your dental practice.
Certified Membership offers much more and shows you have reached key stages in your career – mapped by our authoritative Career Pathways in dentistry. What ever role you take up in general dental practice, these career stages will be the currency for post-qualification professional development.

If you have recently completed Foundation Training or DCT, you will have already reached the Capable Practitioner stage of our Career Pathway. The next part of your professional journey will be Experienced Practitioner – a designation that you will receive with recognition in postnominals and listing in our new public Member Register.
So long as you are enrolled, you will be recognised as a Certified Member of the College, featuring in the College Member Register, and entitled to the use of postnominals:
Assoc.MCGDent(Cert.)
MCGDent(Cert.)
Assoc.FCGDent(Cert.)
What does Certified Membership involve?
Certified Membership has four components, which work together to support you, at each stage of your career. They help you instil the self-discipline and personal insight to succeed in your practice, in an increasingly complicated and challenging world.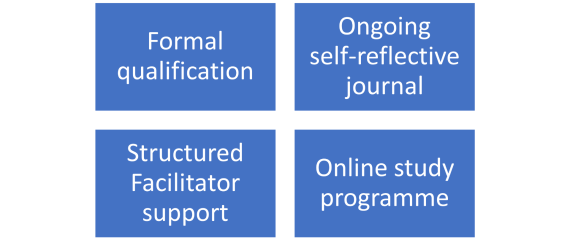 Formal qualification
Do you already have the qualification to meet our requirements for Full Membership or Associate Fellowship? That counts toward Certified Membership, so you are well on your way there already. If you are not sure what qualification you want or need for a progressive and fulfilling career in dentistry, Certified Membership will help shape your thinking.
Ongoing reflective journal
You will be used to developing and documenting systematic, reflective practice as a committed professional. We will draw upon your existing portfolio and other commitments in personal development planning, to ensure you have a meaningful tool that works for you.
Structured Facilitator support
You will be assigned a trained Facilitator to support your reflective development. Their role is to help you to realise the best in yourself, with insightful questions and active encouragement. Our Facilitators are deeply committed professionals who want the best for you and your meetings together will be structured, thorough and focused on your next steps.
Online study programme
Our Professional Framework will be the guide for your development, and we will ask you to commit to specific training to help you gain a deeper understanding of some critical skills and their application. Linked to your Facilitator meetings, each module will provide one point of focus for your discussions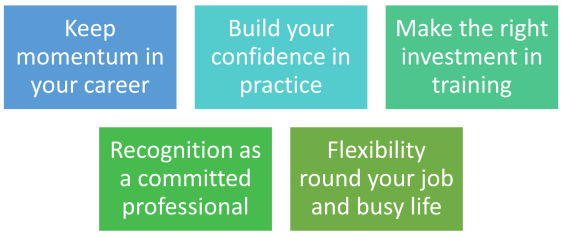 Certified Membership fee
Certified Membership is an enhancement of your standard membership. If you are not currently a CGDent member, you can enrol in membership at the same time, paying the standard annual fee, plus £150 a year to remain enrolled in the scheme (while you acquire Certified status, and thereafter to maintain Certified status).
Next steps
We are working towards launching Certified Membership very soon. Once the new membership scheme is open, you can apply to be one of the first Certified Members of the College and enjoy the elevated professional recognition this brings.
If you are already a member of the College, you can apply as soon as Certified Membership is open. If you are not currently a member, you are already eligible to join the College as an Associate Member (with BDS) or Full Member (with PGCert, MFDS or MJDF). See our different memberships and eligibility here.
Contact us to find out more about Certified Membership and get started.