Clinical examination and record-keeping
Clinical Examination and Record-Keeping: Good Practice Guidelines is a complete reference guide to record-keeping and examination.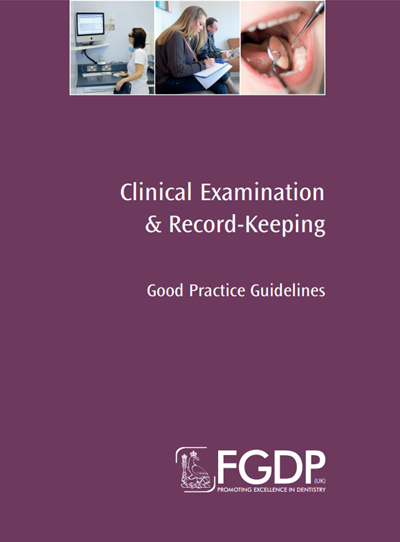 Covering dental records, history-taking, full examination, recall visits, consent, confidentiality, data protection, referrals, electronic records, special situations and more, the third edition has been fully updated and expanded to reflect technological and regulatory developments. It also includes scenarios to put the guidance into context, as well as a series of extensive appendices, diagrams, charting notes and template forms which dental professionals may adopt for use in their practice.
Its recommendations – which the Care Quality Commission expects dental practices in England to comply with when recording medical history, assessing needs, and planning and recording care – are categorised for simplicity into 'basic', 'aspirational' and 'conditional'.
"This publication provides good practice guidelines in clinical examination and record keeping for primary dental care practitioners. It is relevant, clear, well structured, accessible and an excellent reference tool"
British Dental Journal
It is available to view online free of charge, however you will need to log in or register an account. College members can also download the publication (strictly for personal use), and have access to search, text-select and print functionality. Membership is available from £125 per year for dentists, from £83 for other dental professionals, and from £42 for Dental Nurses and those eligible for a concession.
This content has been restricted to logged in users only. Please
login
to view this content.
Related articles
CGDent members can view full articles via the links below by first visiting the PDJ Member Access page and clicking 'Access the PDJ Archive'.
Non-members who wish to read one of these papers, or other Primary Dental Journal articles, have the option to join the College or subscribe to the PDJ.