We are growing – and we will be posting new roles and opportunities with the College here.
Advisory Strategy Group
Posted: 23 July 2020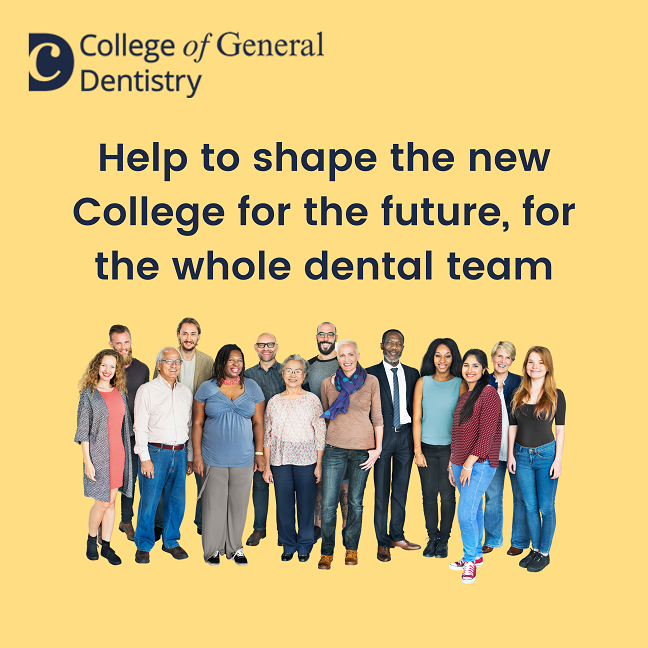 We are pleased to announce an exciting opportunity to be involved in shaping our new College.
Our vision for the College is to enhance the development of the dental team and foster excellence and confidence in oral healthcare for all. We are recruiting up to 15 people from across the registrant community to form an Advisory Strategy Group, supporting and guiding Trustees in fulfilling this vision.
The Group will be convened by the Chair of the Board of Trustees of the College, Professor Nairn Wilson CBE, and facilitated by Dr Janet Clarke MBE. The Group's members, from across all categories of dental healthcare professionals, will not represent specific groups or organisations but should have the ability to solicit and voice the views of their peers on how the College might best engage and serve the whole dental team. We particularly encourage interest from individuals from under-represented communities in dentistry.
Much of the work of the Group will be conducted online or by teleconference, with periodic workshops or small group meetings being held in convenient locations to deal with specific issues. As best we can, we will plan meetings to accommodate people's existing working hours. While the time commitment of members may vary, it is not expected to amount to more than the equivalent of three to five days per year. Appointment to the Group will be for two years initially.
At this early stage in its development, the College is unable to provide honoraria or locum cover costs for service on the Group but will cover all reasonable travel and related out-of-pocket expenses.
To receive further information, contact [email protected]; applications will close on 21st August 2020.