Free copy of the PDJ
Register here for a free print copy of the next issue of the Primary Dental Journal, our quarterly, peer-reviewed member publication*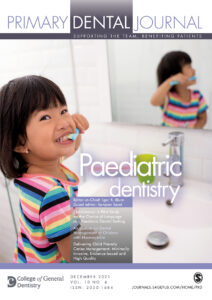 Unique in its dedication to general dental practice, three themed issues in each annual volume explore topics of interest and relevance to the primary care dental team, led by an invited Guest Editor who is a renowned expert in the field, with one 'general issue' per volume covering a wide range of topics.
Featuring clinical articles, editorials and updates from the College, the journal is widely recognised as a leading resource for GDPs and DCPs working in primary care, and has as its Clinical Editor and Editor-in-Chief Professor Igor Blum of King's College London, the UK's only Professor of Primary Dental Care.
To celebrate the launch of the College, we are offering you one free issue of Primary Dental Journal. The December 2021 issue, guest edited by Dr Sanjeev Sood of King's College London, explores Paediatric Dentistry. Complete the form below to receive your free copy.
If you enjoy your sample copy and wish to keep receiving Primary Dental Journal, an annual print subscription, normally costing £111, is included with membership of the College of General Dentistry. Membership is available from £94 for dentists and £33 for all other registered dental professionals, and also includes online access to the complete PDJ archive of over 80 past issues, and a range of other benefits.
Sign up for the College Newsletter to keep up to date with our news and events.
* Subject to availability; you will be sent a subsequent issue if stocks run out