The new edition of the Primary Dental Journal, Paediatric Dentistry, is now online.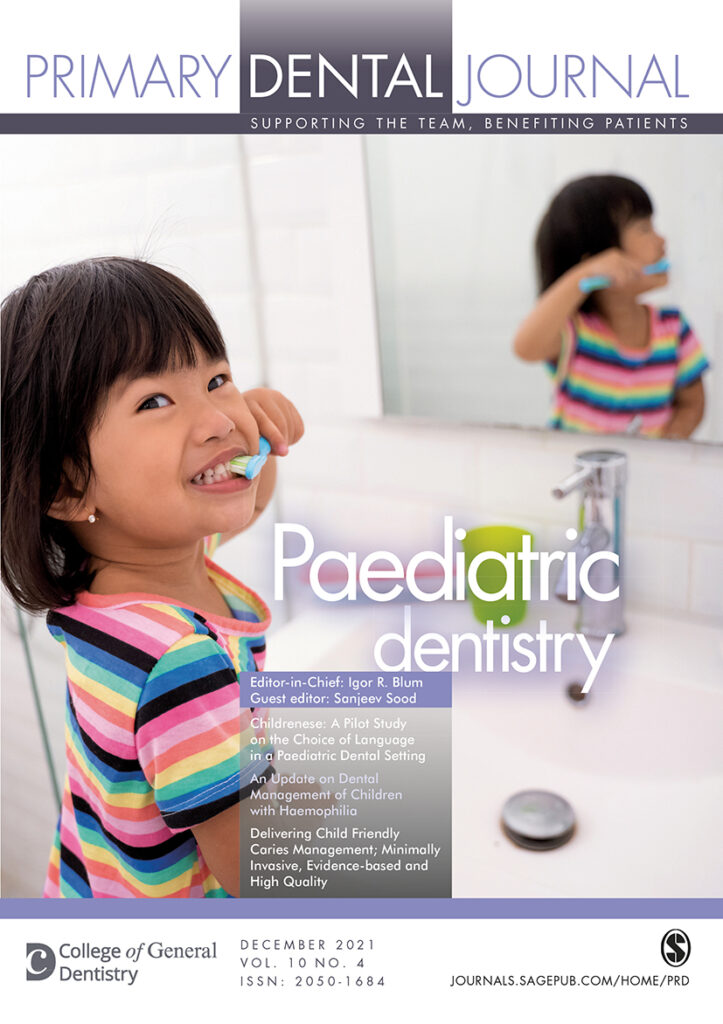 Guest edited by Dr Sanjeev Sood of King's College London, this issue is dedicated to promoting oral health in children, and outlines strategies for prevention and contemporary management of dental disease in childhood.
It features papers on communicating effectively in a paediatric setting, the dental management of children with haemophilia, and minimally invasive treatments for dentine caries in primary teeth.
CGDent members and PDJ subscribers can access the new issue by visiting: https://journals.sagepub.com/toc/prda/current (Members will need to be logged into the CGDent website).
Paediatric Dentistry content includes:
Promoting oral health and managing dental disease in childhood: current perspectives for primary dental care (Igor R Blum) (Editorial)

Paediatric dentistry (Sanjeev Sood) (Guest Editorial)

Research abstracts: Paediatric dentistry (Ario Santini)

Management of patients with poor prognosis first permanent molars beyond 'ideal' timing (Laura Warrilow, Sheridan McDonald)

Parental views on minimally invasive dentistry versus general anaesthesia extractions of children's compromised first permanent molars: an exploratory qualitative study (Mona Agel, Sasha Scambler, Marie Therese Hosey)

When less is more: minimally invasive, evidence-based treatments for dentine caries in primary teeth – the Hall Technique and silver diamine fluoride (Waraf Al-Yaseen, Nassar Seifo, Shannu Bhatia, Nicola Innes)

An update on the dental management of children with Haemophilia (Ruixiang Yee, Monty S Duggal, Vivian Yung Yee Wong, Joyce Ching Mei Lam)

Replacement resorption in children: the root of all evil? (Laura Warrilow, Tanika Gohil, Abdullah Casaus)

'Childrenese': a pilot survey on the choice of language in a paediatric dental setting (Mairead Hennigan, Alice Hamilton, Antoniella Busuttil-Naudi)

Dental bleaching: 'now I can smile for my selfies' – paediatric patients' perspectives (Nabeel Ilyas, Sophie Marshall, Meera Ahluwalia)
As well as the current issue of Primary Dental Journal, CGDent members have free access to the PDJ archive, a rich resource containing over 1,300 informative articles on topics of ongoing relevance to general dental care.
Featuring clinical articles, editorials and updates from the College, the Primary Dental Journal is widely recognised as a leading resource for GDPs and DCPs working in primary care. CGDent membership includes free access to the PDJ, both online and in print – find out more about becoming a member.
CGDent members and PDJ subscribers should expect their printed copies to arrive in the next 2-3 weeks.