Selection criteria for dental radiography
Selection Criteria for Dental Radiography is the leading guideline on indications for radiographic investigation, covering treatment planning and monitoring, ionising radiation regulations and best practice.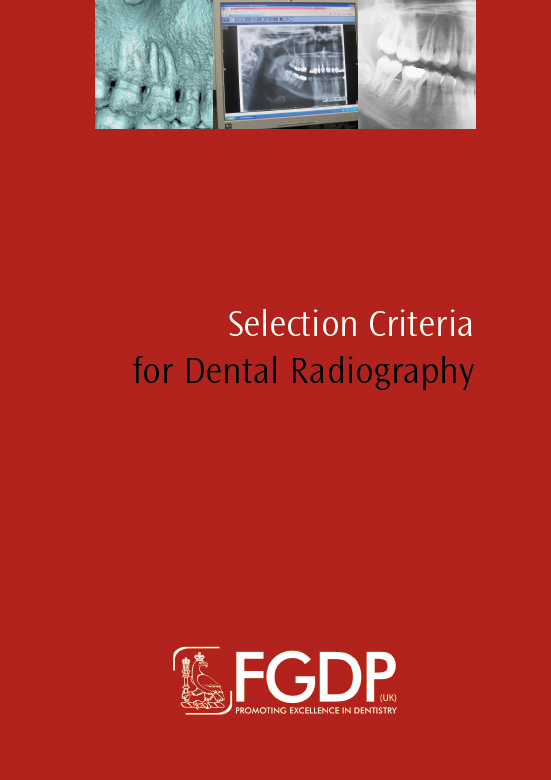 Based on a comprehensive review of all of the available data and guidance, and wide consultation with relevant professional bodies and specialist groups to provide consensus on best practice, it gives clear, simple and practical advice on the safe and effective use of radiography in practice.
First published in 1998, and now in its third edition, it covers the use of radiographs for the developing dentition, endodontic assessment, caries diagnosis, periodontal assessment, and implantology, and has been updated since the second (2004) edition to reflect more recent developments in radiography and dentistry, including digital radiography and CBCT, as well as to include expanded guidance on the use of radiography in implantology, and additional guidance on paediatric radiography.
The Care Quality Commission expects dental practices in England to comply with the recommendations in Selection Criteria for Dental Radiography in their assessments of needs and delivery of care.
It is available to view online free of charge, however you will need to log in or register an account. College members can also download the publication (strictly for personal use), and have access to search, text-select and print functionality. Membership is available from £94 per year for dentists, and from £33 for all other dental professionals.
This content has been restricted to logged in users only. Please
login
to view this content.
Related articles
CGDent members have free access to these articles, and further papers on this topic. To search the PDJ archive, please ensure you are logged in to this website.
The Use of Panoramic Radiography prior to Oral Surgery by Keith Horner, Vivian Rushton (October 2020)
Cone Beam Computed Tomography (CBCT) in General Dental Practice by Nicholas A Drage (March 2018)
Developing Selection Criteria for Dental Radiography by Keith Horner, Gareth Kingston (March 2013)
Adherence to Nice Guidelines on recall Intervals and the FGDP(UK) Selection Criteria for Dental Radiography by Nicholas A Drage, Kristian JM Davies (March 2013)
A Dental Nurse's Perspective of Radiography in Practice: Things to Consider by Mhari Coxon, Kimberley Wingrove (March 2013)
Non-members who wish to read one of these papers, or other Primary Dental Journal articles, have the option to join the College or subscribe to the PDJ.
Related events, news & blogs
Recorded webinar. Thursday 17 February 2022, 7pm CGDent members and ProDental subscribers have free access to the recorded webinar and can claim CPD hours for free. …
The second edition of Guidance Notes for Dental Practitioners on the Safe use of X-ray Equipment sets standards of good practice for the safe use…