The newest edition of the Primary Dental Journal, the Dental trauma issue (vol.12, no.4), is now live online.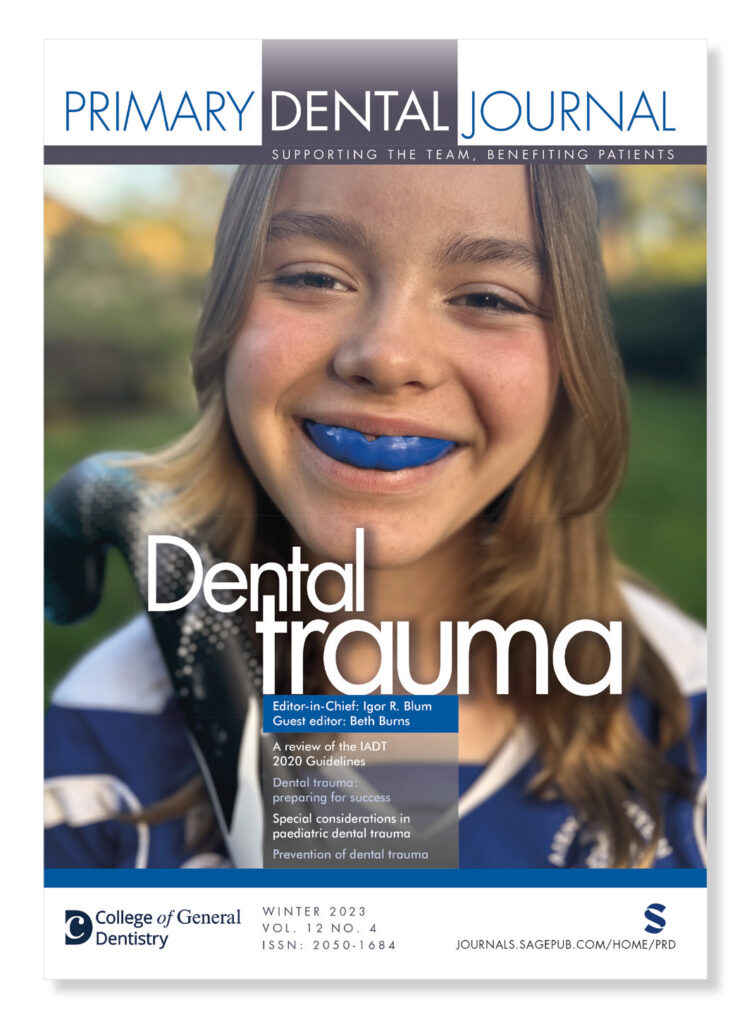 This latest issue is guest edited by an expert in the field of Dental trauma, Beth Burns. Beth is a Consultant & Clinical Lead in Restorative Dentistry at Glasgow Dental Hospital, as well as a Board Member of Dental Trauma UK (DTUK).
In this issue, Beth has selected a range of key topics for the whole team of dental professionals, including a review of the International Association for Dental Traumatology (IADT) 2020 guidelines, how to prepare for success in dealing with dental trauma, and advice on how to prevent or minimise dental trauma. A full list of papers can be found below.
While dental trauma is most common in paediatric patients, this issue also looks at the management of adult trauma patients – both of which bring their own challenges to overcome. As an unscheduled and urgent aspect of dentistry, dental trauma usually presents a level of stress to both the patient and also the dental team. This issue of the journal offers ways to alleviate these stresses in primary dental care, through knowledge and practical advice on the assessment and management of a range of traumatic dental events.
Beth Burns summarises:
"This issue aims to provide not just a review of the most up-to-date guidance, but also a demonstration of practical application, with an abundance of clinical cases discussed, and all injury diagnoses covered.
"In planning the contents of this journal, I have aimed to provide dental professionals with a comprehensive source of current information in an easily accessible format. I am immensely proud of the quality of articles all the authors have contributed to this issue, and I hope you will find them an extremely useful resource you can refer to time and time again."
Overseeing the papers alongside Beth, Editor-in-Chief, Professor Igor Blum says this issue will serve as a guide for general dental practice:
"Beth and the contributing authors have excelled in achieving our joint vision to reduce anxiety for the general dental practice team by providing relevant and useful information alongside guidelines to assist in manging patients who have sustained traumatic dental injuries. I am certain readers will find the collection of articles in this issue of interest and will be able to glean useful tips for the next time you will be presented with a patient suffering from acute dental trauma."
Full access to the majority of articles is reserved for College of General Dentistry members and Primary Dental Journal subscribers. For non-members / non-subscribers, individual print issues are available to purchase from £42. An annual print subscription, normally costing £129, is included with membership of the College. Membership is available from £125 for dentists, from £83 for other dental professionals, and from £42 for Dental Nurses and those eligible for a concession and also includes online access to the PDJ Archive of over 1,400 articles, and a range of other benefits.
CGDent members and PDJ subscribers should expect their printed copies to arrive in the next 2–3 weeks.
On behalf of the College, the PDJ editorial team would like to express its gratitude to all the authors and peer reviewers who have contributed to the publication of this issue.
CGDent members can view full articles by logging in via the yellow button below, then clicking 'Access the PDJ Archive':
At least one paper in each issue is made available online free of charge on an Open Access basis. Non-members can view all other full articles using the purchase options presented when clicking the individual article links below, or can use the links above to purchase a complete issue or an annual subscription, or become a member.
PDJ Winter 2023 Dental trauma issue contents:
The next issue of the journal will feature a wide range of General dentistry papers, and is due out in Spring 2024.