Dementia-friendly dentistry
Dementia-Friendly Dentistry: Good Practice Guidelines enables dental professionals to understand dementia and its implications for dental practice, and adapt their patient management and clinical decisions accordingly.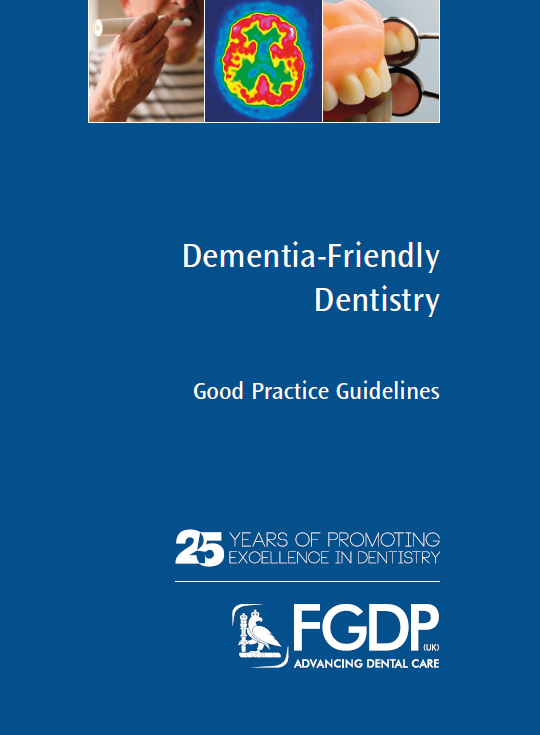 It has been estimated that around 5% of the UK population are living with dementia, and Dementia-Friendly Dentistry offers guidance on how to care for this significant patient group, including:
The epidemiology and diagnosis of dementia, and its implications for dental professionals.
Principles of care management, including patient identification, competence and referrals, communication, consent and capacity.
Clinical care, including history taking, treatment planning, care delivery and prescribing.
Site-specific considerations for dental practices, care homes and domiciliary care.
It also signposts readers to local support, educational programmes and resources for patients, and contains over 50 recommendations for practitioners, categorised as 'basic', 'aspirational' or 'conditional'.
It is available to view online free of charge, however you will need to log in. College members can also download the publication for personal use, and have access to search, text-select and print functionality. Membership is available from £94 per year for dentists, and from £33 for all other dental professionals.
This content has been restricted to logged in users only. Please
login
to view this content.
Related articles
CGDent members have free access to these articles, and further papers on this topic. To search the PDJ archive, please ensure you are logged in to this website.
The Impact of Dementia on Oral Health and Dental Care, Part 1: Setting the Scene for Dental Care Provision by Kathryn Kerr, Charlotte Curl, Andrew Geddis-Regan (July 2020)
The Impact of Dementia on Oral Health and Dental Care, Part 2: Approaching and Planning Treatment by Andrew Geddis-Regan, Kathryn Kerr, Charlotte Curl (July 2020)
Dental Management of Patients with Dementia in Primary Dental Care by Sukina Moosajee, Sobia Rafique, Blánaid Daly (July 2020)
Dementia-Friendly Dentistry: Why Dementia Guidelines? (December 2017)
Challenges to Oral Health Care for Older People in Domiciliary Settings in the Next 20 Years: A General Dental Practitioner's Perspective by Joseph Sullivan (July 2012)
Non-members who wish to read one of these papers, or other Primary Dental Journal articles, have the option to join the College from £94 for dentists and £33 for other dental professionals or subscribe to the PDJ.
Related events, news & blogs
The College of General Dentistry has published new guidelines on mentoring in implant dentistry. Mentoring in Implant Dentistry: Good Practice Guidelines describes the nature of…
The College of General Dentistry has endorsed newly updated guidance on anticoagulants and antiplatelet drugs from the Scottish Dental Clinical Effectiveness Programme. The second edition…
Recorded webinar, Thursday 19 May 2022 Part of our 'Talking Standards' series, which sets out to examine areas covered by our evidence-based standards and guidance, this webinar…