Dementia-friendly dentistry
Dementia-Friendly Dentistry: Good Practice Guidelines enables dental professionals to understand dementia and its implications for dental practice, and adapt their patient management and clinical decisions accordingly.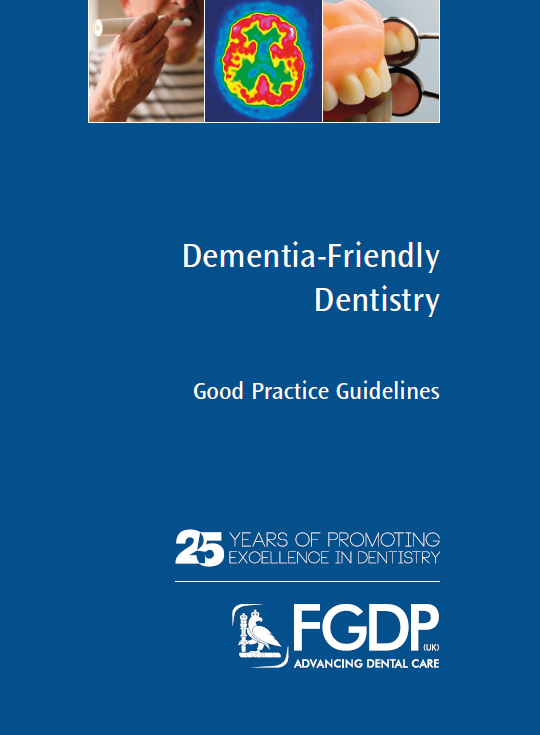 It has been estimated that around 5% of the UK population are living with dementia, and Dementia-Friendly Dentistry offers guidance on how to care for this significant patient group, including:
The epidemiology and diagnosis of dementia, and its implications for dental professionals.
Principles of care management, including patient identification, competence and referrals, communication, consent and capacity.
Clinical care, including history taking, treatment planning, care delivery and prescribing.
Site-specific considerations for dental practices, care homes and domiciliary care.
It also signposts readers to local support, educational programmes and resources for patients, and contains over 50 recommendations for practitioners, categorised as 'basic', 'aspirational' or 'conditional'.
It is available to view online free of charge, however you will need to log in or register an account. College members can also download the publication for personal use, and have access to search, text-select and print functionality. Membership is available from £125 per year for dentists, from £83 for other dental professionals, and from £42 for Dental Nurses and those eligible for a concession.
This content has been restricted to logged in users only. Please
login
to view this content.
Related articles
CGDent members can view full articles via the links below by first visiting the PDJ Member Access page and clicking 'Access the PDJ Archive'.
Non-members who wish to read one of these papers, or other Primary Dental Journal articles, have the option to join the College or subscribe to the PDJ.
Related events, news & blogs
The latest edition of the Primary Dental Journal, The general issue (vol.12, no.1), is now live online. The general issue brings together a wide range of topics, hand-picked by Editor-in-Chief, Professor Igor Blum, including a spectrum of contemporary approaches, clinical techniques and philosophies relating to aspects of general dental practice and the primary dental care team. A list of the papers can be found below. The issue also features the third…