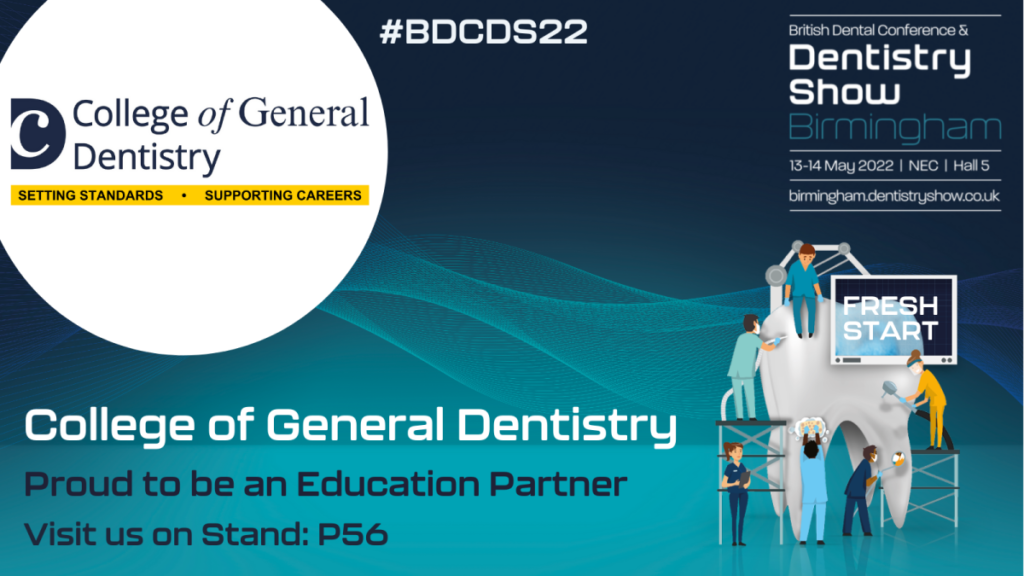 British Dental Conference & Dentistry Show
13-14 May 2022, NEC Birmingham, Hall 5
The College is delighted to be the Education Partner and headline supporter for the Core CPD Theatre at the 2022 British Dental Conference and Dentistry Show, and looks forward to welcoming members and non-members alike to Stand P56, and to its CPD seminars on GDC-recommended subjects.
The Core CPD Theatre will feature 11 seminars over the two day conference, with experts in their fields sharing their extensive knowledge, and offering practical advice, on an array of essential, GDC-recommended, CPD subjects. The College itself will be hosting four of these, and we look forward to welcoming all dental professionals to our seminars:
Medical emergencies

Friday 13 May, 9.15am – 10am, Core CPD Theatre

Dr Kaushik Paul, Specialty Dentist, Oral Surgery and Sedation

GDC development outcomes: C
Leadership in infection prevention and control

Friday 13 May, 10.15am – 11am, Core CPD Theatre

Fiona Ellwood BEM FFGDP(UK)(Hon.), Subject Expert, Bangor University, All Wales Faculty for Dental Care Professionals

This session will provide an overview of the principles of leadership and the various leadership styles in the context of infection prevention and control. The presentation will be important to those who lead in IPC or who are looking to become a decontamination lead. It will consider legislation and policy and the impact of non-compliance at all levels. It will give support to existing leads and look at enhancing skills and consider lessons learned so far because of the pandemic.

GDC development outcomes: A, B, C, D
Information sharing in the digital age

Saturday 14 May, 9.15am – 10am, Core CPD Theatre

Tashfeen Kholasi, Vice President, College of General Dentistry

This session provides an overview of information sharing for patient care, and covers GDPR, the Caldecott Principles, the role of digital technology in information sharing, and how to share information safely and securely in practice.

GDC development outcomes: A, D
Complaints handling: A step-by-step approach to resolving a dental complaint

Saturday 14 May, 3.15pm-4pm, Core CPD Theatre

George Wright, Deputy Dental Director, Dental Protection

Aimed at all members of the dental team, this session will highlight key stages of the complaint-handling process with real examples of patient complaints. Covering a number of scenarios including verbal and written complaints, delegates will gain an insight into how complaints can be effectively handled to facilitate early resolution.

GDC development outcomes: A
Conference registration is free, and delegates will have access to over 250 seminars and workshop sessions in all, tailored to the whole dental team, across 14 lecture theatres.
The conference is co-sited with the Dental Technology Showcase, a major exhibition giving visitors the opportunity to discover the latest dental innovations and equipment from over 400 suppliers. And, of course, the Dentistry Show provides a great opportunity to network with thousands of dentists, practice managers, hygienists and therapists, dental nurses, technicians and laboratory owners.
We look forward to seeing you there!
See the full conference programme here