The completely revised second edition of Standards in Dentistry is a comprehensive manual bringing together standards and guidelines for primary care dentistry.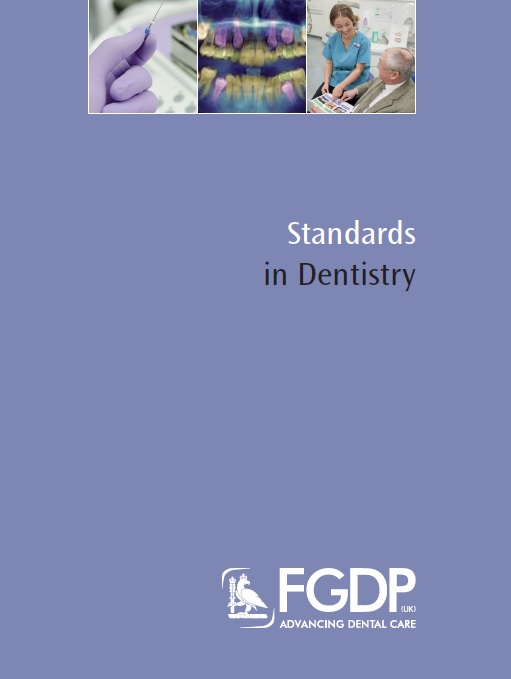 Acting as a guide to personal or practice-based quality assessment, it is an indispensable compendium for the conscientious oral health professional, and sets out specific basic and aspirational standards covering:
consultation and diagnosis
making and receiving referrals
paediatric dentistry
orthodontics
management of acute pain
periodontics
direct (plastic), coronal and root surface restorations
indirect coronal restorations (crowns, bridges, onlays, veneers)
endodontics
removable partial dentures
complete dentures
oral medicine
minor oral surgery
implant dentistry
management of dental trauma
It also summarises almost 70 standards and guidelines publications by the College of General Dentistry and 30 other organisations relating to the above areas and to:
emergency dental care
examination and record-keeping
infection prevention and control
medical emergencies
medications management
oral health
pathology
patient information
practice management
prevention
radiography
restorative dentistry
risk management and communication
sedation
special care dentistry
staff training
Standards in Dentistry combines the functions of two publications previously published by FGDP(UK), Self-Assessment Manual and Standards (SAMS) and Guidelines for Structure and Process in Dental Practice, and the first edition was edited by Kenneth Eaton and published in 2006.
The second edition represents a complete revision and update by Professor David Moles and his colleagues at Plymouth University Peninsula School of Dentistry to reflect the contemporary clinical, organisational and dento-legal contexts in which dentistry is now practised, as well as changes in the evidence base over the intervening years.
This content has been restricted to logged in users only. Please
login
to view this content.
Related articles
CGDent members can view full articles via the links below by first visiting the PDJ Member Access page and clicking 'Access the PDJ Archive'.
Non-members who wish to read one of these papers, or other Primary Dental Journal articles, have the option to join the College or subscribe to the PDJ.
Related events, news & blogs
Thursday 4 July 2024, 6.30pm, Solihull Session topic: Endodontics The CGDent Midlands study club for Early Career GDPs, aims to share expertise, experience and knowledge as well as encouraging discussion on a diverse range of topics within dentistry. Sessions take place every two months, and this session is on the topic of endodontics. The session will cover common issues with endodontics and how some of these can be avoided, the…