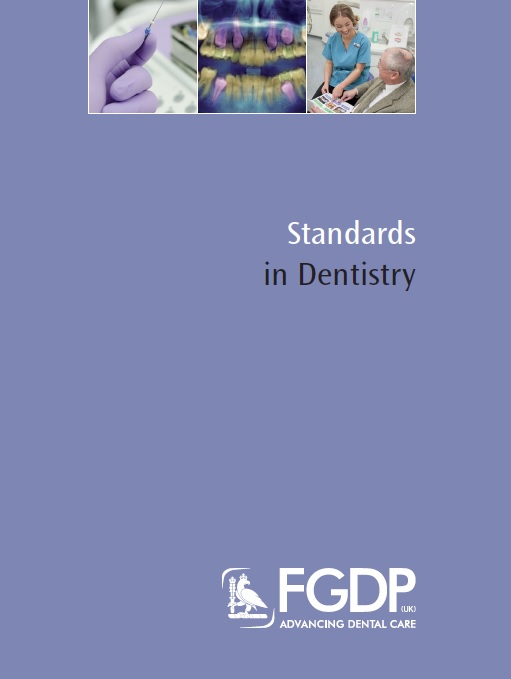 Standards in Dentistry is a comprehensive manual bringing together standards and guidelines for primary care dentistry.
Acting as a guide to personal or practice-based quality assessment, it is an indispensable compendium for the conscientious oral health professional, and sets out specific basic and aspirational standards covering:
consultation and diagnosis
making and receiving referrals
paediatric dentistry
orthodontics
management of acute pain
periodontics
direct (plastic), coronal and root surface restorations
indirect coronal restorations (crowns, bridges, onlays, veneers)
endodontics
removable partial dentures
complete dentures
oral medicine
minor oral surgery
implant dentistry
management of dental trauma
It also summarises almost 70 standards and guidelines publications by the FGDP(UK) and 30 other organisations relating to the above areas and to:
emergency dental care
examination and record-keeping
infection prevention and control
medical emergencies
medications management
oral health
pathology
patient information
practice management
prevention
radiography
restorative dentistry
risk management and communication
sedation
special care dentistry
staff training
Standards in Dentistry combines the functions of two previous FGDP(UK) publications, Self-Assessment Manual and Standards (SAMS) and Guidelines for Structure and Process in Dental Practice, and the first edition was edited by Kenneth Eaton and published in 2006.
The second edition, published in 2018, is the result of a complete revision to reflect the contemporary clinical, organisational and dento-legal contexts in which dentistry is now practised, as well as changes in the evidence base over the intervening years.
Standards in Dentistry is available in the following formats:
Further CGDent resources
PDJ Archive
When Less is More: Minimally invasive, Evidence-Based Treatments for Dentine Caries in Primary Teeth – The Hall Technique and Silver Diamine Fluoride by Waraf Al-Yaseen, Nassar Seifo, Shannu Bhatia, Nicola Innes (January 2022)
Orthodontics in Primary Care by Nairn Wilson (December 2016)
Complications in Endodontics by Bhavin Bhuva, Omar Ikram (November 2020)
An Evaluation of A Practice-Based Minor Oral Surgery Service by Thomas Anthony Dyer, Jessica Ga Lai Lau (October 2020)
Periodontal Disease: Its Impact on Restorative Dentistry by Shauna Culshaw (March 2017)
CGDent members can unlock these articles by using the 'search' function in the PDJ Archive – you will need to be logged in to the CGDent website.
CPD webinars, news & blogs
General dental practitioners are being sought to support research towards the development of a clinical risk assessment tool, and the College would like to encourage members to participate. The research is part of the RADIANT project being conducted by a team at Peninsula Dental School at the University of Plymouth, and aims to create and develop a practical, evidenced-based restorative dental risk assessment tool informed by input from clinical practitioners,…