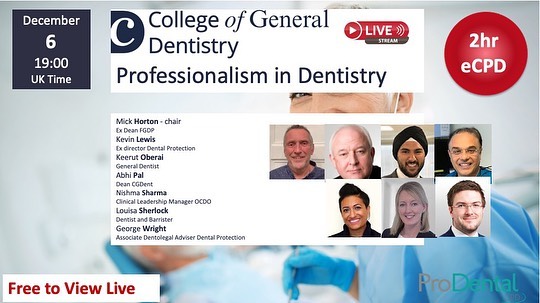 Recorded webinar. Monday 6 December 2021, 7pm.
This webinar is part of our 'PDJ Live' series, which examines topics covered in contemporary issues of the Primary Dental Journal, the College of General Dentistry's quarterly peer-reviewed member journal for the whole dental team. It is one of three events which convene a range of voices from across the profession, including some of the authors, to explore the subjects of the papers in the June 2021 issue on leadership and professionalism.
Inspired by the article Professionalism – a medico-legal perspective, this webinar provides an overview of professionalism in a healthcare context, and explores some of the characteristics that different parties would associate with it. We examine the issue of professionalism in relation to dental colleagues, and how it impacts upon the range of medico-legal challenges they might face. And we ask whether a mismatch of perspectives, and the relative importance that each party attaches to different aspects of professionalism, can often sit at the heart of complaints and litigation, and whether traditional professional values and behaviours are still relevant in a modern healthcare environment that is increasingly digital, consumerist and competitive.
CGDent members interested in reading the article ahead of watching the webinar will find it on page 51 of their print copy, or can read it online by logging in to the CGDent website, visiting https://cgdent.uk/primary-dental-journal-member-only/ and following the links to the June issue. Non-members can rent or purchase the article via the title link above, or can take out an annual subscription to the PDJ.
Chair:
Mick Horton, Guest Editor of the June 2021 issue of the Primary Dental Journal
Speakers:
Abhi Pal, President of the College of General Dentistry
Kevin Lewis, Consultant Editor of Dentistry, Trustee of the College of General Dentistry & Author of Professionalism – a medico-legal perspective
Louisa Sherlock, Dentist and Barrister, specialising in business and property law and clinical negligence
George Wright, Senior Dental Educator and Dento-Legal Consultant
Nishma Sharma, Clinical Advisor to NHS England and Clinical Leadership Manager for the Office of the Chief Dental Officer for England
Keerut Oberai, General Dental Practitioner, currently completing a Master's in Medical Law and Ethics at King's College London
CGDent members and ProDental subscribers can claim CPD hours for free and have access to the recording after the event. A £20 fee will apply for non-members/non-subscribers who wish to claim CPD.
This webinar is a co-production of the College of General Dentistry (CGDent) and ProDental CPD.
Membership of the College of General Dentistry is open to all registered dental professionals. Membership for dentists is available from £94, and for other registered dental professionals from £33. The full list of CGDent membership rates is at https://cgdent.uk/membership-fees/.