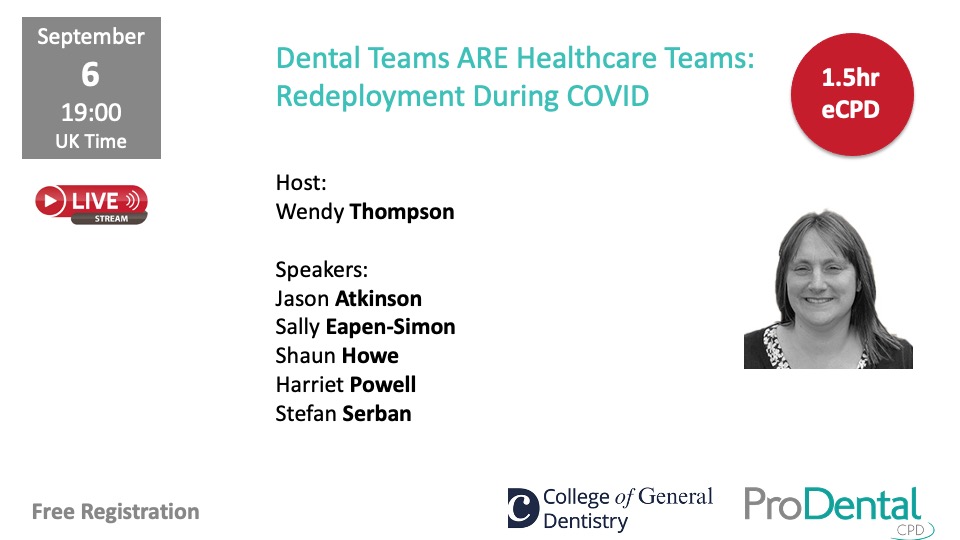 Recorded webinar. Monday 6 September 2021.
Dental healthcare professionals who have been redeployed during the pandemic discuss their experiences in this webinar hosted by the College and ProDental CPD. Reviewing real life stories, the panel talk about what it was like, who did what and what was learnt? They also consider whether the experience has helped others realise that dental professionals ARE healthcare professionals.
This event is part of the 'PDJ Live' webinar series that explores topics covered in the Primary Dental Journal, the College's highly-regarded, quarterly journal for the entire general dental team.
Aims:
To consider the various redeployment options that were undertaken by dental professionals during COVID-19.
Objectives:
Review real life stories as to what happened
to consider the implications for dental teams going forward – What did we learn?
Chair:
Wendy Thompson
Speakers:
Shaun Howe
Stefan Serban
Harriet Powell
Sally Eapen-Simon
Jason Atkinson
The recording of this webinar is available here.
CGDent members and ProDental subscribers have free access to the recording and can claim CPD for free. A £20 fee applies for non-members/non-subscribers.
This webinar is part of the new partnership between the College of General Dentistry (CGDent) and ProDental CPD. To receive information on upcoming events, sign up to the CGDent newsletter.
Membership of the College of General Dentistry is open to all registered dental professionals. Find out more here. Membership for dentists is available from £94, and for other registered dental professionals from £33. The full list of CGDent membership rates is at https://cgdent.uk/membership-fees/.