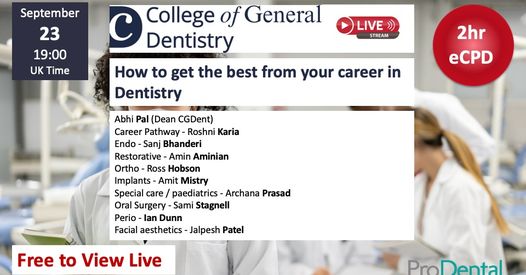 Recorded webinar. Thursday 23 September 2021.
We discuss career options for dental professionals and how the College's Career Pathways can support your career, looking at specific questions:
Not sure where to go next in your career?
Not sure which courses to take?
Not sure what opportunities are available to you?
Want to find our about the new College of General Dentistry (CGDent previously FGDP) Career Pathway?
No matter what stage of your career, CGDent is here to guide you and help you make the best decisions.
The webinar, hosted by CGDent and ProDental CPD, is relevant to the whole team, no matter what your role or stage in your dental career, and starts our program of interactive career and development planning workshops.
Chair:
Dr Abhi Pal FCGDent, President of the College of General Dentistry
Speakers:
Ian Dunn
Dr Sanjeev Bhanderi
Dr Amin Aminian
Dr Jalpesh Patel
Dr Sami Stagnell
Dr Amit Mistry
Dr Archana Prasad
Dr Ross Hobson
Dr Roshni Karia
CGDent members and ProDental subscribers have access to the recording of this event, and can claim CPD hours, free of charge. A £20 fee applies for non-members/non-subscribers.
This webinar is part of the new partnership between the College of General Dentistry (CGDent) and ProDental CPD.
Membership of the College of General Dentistry is open to all registered dental professionals. Membership for dentists is available from £94, and for other registered dental professionals from £33. The full list of CGDent membership rates is at https://cgdent.uk/membership-fees/.