The College of General Dentistry is proud to be supporting Sugar Awareness Week, which aims to raise public awareness of the poor health outcomes associated with excess sugar consumption, get people talking about the importance of sugar reduction, and to encourage citizens, industry and government to support healthier food and drink.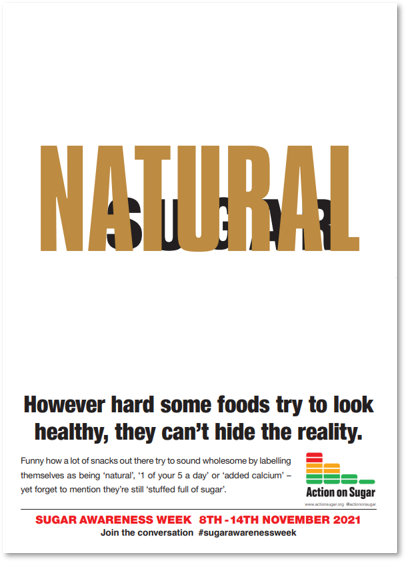 The annual campaign is organised by Action on Sugar, a charity based at the Wolfson Institute of Population Health at Queen Mary University of London, which works to promote a consensus for action to be taken to counter the harmful effects of a high sugar diet. Our support continues that previously given by the Faculty of General Dental Practice, and the two organisations were among those who successfully campaigned for a 'sugar tax' on soft drinks, which since its introduction in 2016 has seen a 29% reduction in the sugar content of drinks subject to the tax and a shift in purchasing towards lower sugar alternatives.
This year's Sugar Awareness Week focusses on the high sugar content frequently seen in snack foods marketed as healthy, and also calls for the removal of misleading sugar claims on sweet baby and toddler snacks such as biscuits and rusks. We would encourage dental practices to display this year's poster in their waiting area, to download and use the tailored images on their social media accounts, and to join the conversation on Twitter using the hashtags #SugarAwarenessWeek and #SnackingOnSugar.
The College's work to support a reduction in sugar consumption is led by Dr Roshni Karia MCGDent, an associate dentist working in general dental practice in Surrey, and Vice President of the College, who represents CGDent on Public Health England's Children's Oral Health Improvement Programme Board. As a dental organisation, the College works with Action on Sugar to highlight the association between sugar consumption and poor oral health, and in supporting Sugar Awareness Week, Roshni commented:
"In the UK we consume three times the recommended maximum amount of sugar. Tooth decay is almost wholly preventable, but affects a quarter of 5-year-olds and a third of 12-year-olds, and tooth extraction is the number one reason young children are admitted to hospital. Reducing sugar intake lowers our risk not only of tooth decay, but of a wide range of illnesses including obesity, type 2 diabetes, heart disease, stroke – and indirectly some cancers. Through education and regulatory action, consumers of all ages need to be empowered to make the healthy choices the easier ones."
The Sugar Awareness Week 2021 resources can be downloaded below:
Sugar Awareness Week 2021 Poster
Sugar Awareness Week 2021 Instagram image
Sugar Awareness Week 2021 Twitter image
Other posters, factsheets and educational materials from Action on Sugar are available at http://www.actiononsugar.org/sugar-awareness-week/sugar-awareness-week-2021/resources/