Leading oral health and mental health professionals are calling for greater consideration of the oral health needs of patients with severe mental illness.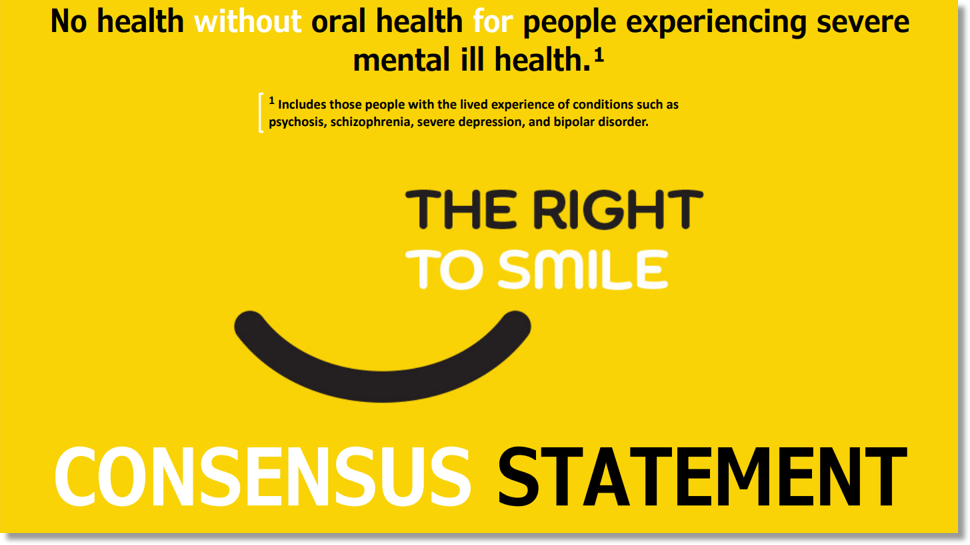 The new Right to Smile consensus statement notes that compared to the general population, people experiencing severe mental ill health are less likely to brush their teeth, less likely to access dental services, more likely to have decayed, missing and filled teeth, more likely to lose all of their teeth, more likely to experience gum and supporting bone problems, and are at risk of acute non-psychiatric hospital admission due to tooth decay.

Asserting that there can be no mental health without physical health, and no physical health without oral health, the statement says the oral health inequality for people with severe mental illness is made worse by a lack of effective interventions.
To help close the gap, the authors are calling for improved access to dental services for people with severe mental ill health; greater recognition of their oral health needs in healthcare training, systems and structures; and consideration of oral health in any physical health assessment of a patient with severe mental illness.
Severe mental illnesses are those which can significantly impair someone's functional activity, and include among others psychosis, schizophrenia, severe depression and bipolar disorder.
Developed by 20 contributors including Vishal Aggarwal FCGDent and Wendy Thompson MCGDent, the statement is jointly published by nine universities, three NHS trusts, the Office of the Chief Dental Officer for England and Australia's Mindgardens Neuroscience Network.
It is endorsed by the College of General Dentistry, Personalised Care Institute, British Society of Special Care Dentistry, Oral Health Foundation, World Dental Federation and International Centre for Oral Health Inequalities Research & Policy, as well as a number of mental health organisations including the Royal College of Psychiatrists and International Early Psychosis Association.
The consensus statement is available here.
Update: a blog about this issue, The Right to Smile, which describes how those in general dental practice can contribute to improved oral health outcomes for those with severe mental illness, was published in June 2023.