Tashfeen Kholasi and Patricia Thomson have been elected as the College of General Dentistry's Vice Presidents for 2022-23, and Louise Belfield, John Stanfield, Bill Sharpling and Sarah Hill have been re-appointed to their roles providing representation of the wider dental team on the College Council.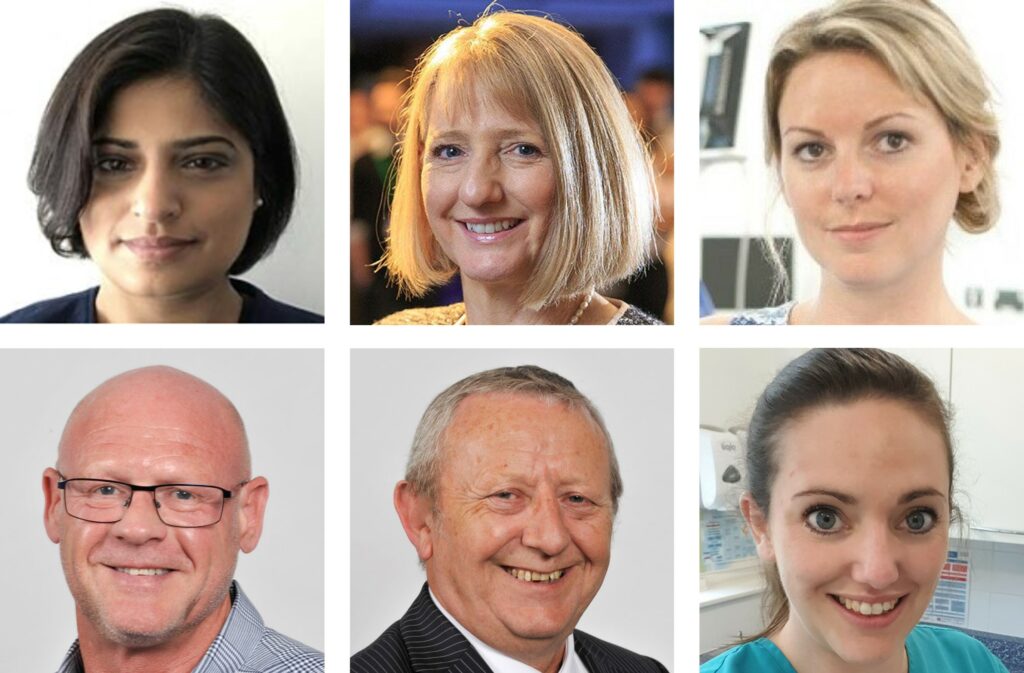 Patricia Thomson FCGDent, Council representative for the West and North of Scotland, graduated from Glasgow Dental School in 1983 and has worked in general dental practice ever since. She became a principal in 1985, sold her practice in 2017, and now works as a part-time associate. She has provided mixed NHS and private care and has an interest in orthodontics. She has tutored colleagues for entry exams for the Royal Colleges, presented teaching sessions on orthodontics to vocational trainees, and delivers postgraduate lectures at RCPS Glasgow. She served on the National Board of the Faculty of General Dental Practice UK (FGDP) from 2016-21, and is Chair of the College of General Dentistry's Regional Funding Panel. She is a Fellow of the International College of Dentists and a Past President of the West of Scotland branch of the British Dental Association.
Tashfeen Kholasi FCGDent, Council representative for the North East and North West Thames region, was re-elected after serving as one of the College's inaugural Vice Presidents in 2021-22. She is an associate dentist and Chief Clinical Information Officer in general dental practice, as well as a Clinical Tutor in Special Care and Sedation at King's College London, from where she qualified. With a strong interest in digital health, she is a Fellow of the Faculty of Clinical Informatics, and a former health informatics clinical lead at NHS Digital. She has a Diploma in Conscious Sedation and a Master's in Legal Aspects of Medical Practice, and is currently completing a Master's in Healthcare Leadership and Commissioning. She was elected to the FGDP's board in 2020 and serves on the College's Membership Affairs Committee, Professional Affairs Committee and Membership Admissions Panel.
The Vice Presidents support the College President in the delivery of the strategy and policy agreed by the Council, from which they are elected.
Roshni Karia MCGDent stood down as a Vice President after completing the maximum two years' service in the role, having previously been Vice Dean of the FGDP in 2019-20. During her tenure, she has been instrumental in the development of the College's soon-to-be-launched Certified Membership scheme, and has been appointed Chair of the College's Professional Affairs Committee for 2022-23.
Louise Belfield, John Stanfield and Bill Sharpling have been re-appointed to the College Council for a further year as the respective voting representatives of dental nursing & orthodontic therapy, dental hygiene & therapy, and dental technology & clinical dental technology. It is intended that these positions will become elected in 2023 following the formation of professional faculties within the College. Sarah Hill has also been re-appointed to provide additional non-voting representation of dental professionals other than dentists.
Louise Belfield AssocFCGDent is a dental nurse, research scientist, lecturer, Health Education England Dental Clinical Fellow, and National Examination Board for Dental Nurses Trustee. Louise trained as a dental nurse in Devon, qualifying in 2001. She has worked across a range of dental specialties at Torbay and South Devon NHS Foundation Trust including community, special care, and emergency dentistry, as well as in general dental practice. She holds a BSc (Hons) in Human Biosciences, a doctorate in immunology, and a postgraduate certificate in clinical education. She was awarded Senior Fellowship of the Higher Education Academy in 2019 in recognition of her continued contributions to dental education. She is a member of the College's Professional Affairs Committee and Membership Admissions Panel.
Bill Sharpling FCGDent is Associate Dean (CPD) and Director of the London Dental Education Centre (LonDEC) at the Faculty of Dentistry, Oral & Craniofacial Sciences, King's College London. Previously, he was Head of Dental Technology at Guy's, King's College and St Thomas' Hospitals. He is also the External Examiner for the BSc(Hons) Clinical Dental Technology programme at the University of Central Lancashire. After qualifying in 1986, Bill spent the next 10 years working as a Dental Technician, gaining advanced qualifications in fixed and removable prosthodontics. He has worked in commercial dental laboratories, the Armed Forces and as the Chief Instructor in Conservative Dental Technology at Guy's Hospital Dental School. He is a member of the College's Careers and Training Committee.
John Stanfield AssocFCGDent has over 40 years' experience as a dental hygienist, and works in private dental practice in Cheshire. He was Editor of the FGDP's Team in Practice journal and Vice-Chair of its DCP Committee, and now serves on the College's Membership Affairs Committee. Originally qualifying in the Army in 1980, he has experience of hospital, NHS, teaching establishments and private practice. He has studied learning and teaching, with a special interest in the use of technology and media, was a clinical lead for NHS Test & Trace, and is a trustee for the dental charity Maasai Molar, enabling the education of children of the Maasai region towards better dental health.
Sarah Hill AssocFCGDent qualified as a dental hygienist from the University of Bristol with distinction in 2012, and holds a BSc (Hons) in Biomedical Sciences from the University of Southampton and a Postgraduate Diploma in Clinical Education from the University of Plymouth. Working as a hygienist in a mixed orthodontic practice in Halesowen, she has previously delivered presentations for TePe, been a sales representative for GlaxoSmithKline, and a lecturer in Community-Based Dentistry at Peninsula Dental School. An assessor for the National Examining Board for Dental Nurses, Fellow of the Higher Education Academy and past Chair of the South West and South Wales group of the British Society of Dental Hygiene and Therapy, she was an Affiliate Member of FGDP from 2013-21, and the DCP representative on both its West Midlands and national boards.
Abhi Pal FCGDent, President of the College, said:
"On behalf of our members, I congratulate Patricia on her election as Vice President, Tashfeen on her re-election for a second term, and Louise, Bill, John and Sarah on their re-appointment as dental team representatives. I look forward to drawing on their vast and varied experience, knowledge and expertise as the College continues to fulfil its historic mission to build a professional body for all dental professionals.
"I would also like to thank Roshni for her service as Vice President, and look forward to continuing to work with her as we launch Certified Membership and in her new role overseeing our professional affairs activity."