We regret to report that Robert Leslie Morgan FFGDP(UK)(Hon.), former national board member and West Midlands regional director for the Faculty of General Dental Practice, has passed away aged 69.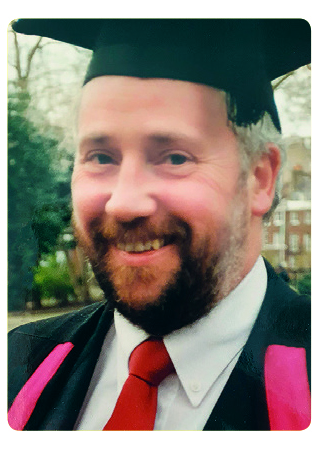 Born and raised in South Wales, he was awarded the Licentiate in Dental Surgery from the Royal College of Surgeons of Edinburgh in 1975, and graduated from Birmingham Dental School the same year. He worked at Morgan Dental Practice in Halesowen, a mixed NHS-and-private practice with an orthodontic contract, from its purchase in 1977 with his wife, Sue, until his retirement from clinical dentistry in 2012.
Always encouraging colleagues and peers to go further with their career at whatever stage, and with a particular passion for inspiring the younger generation, he was heavily involved in postgraduate dental education. In the West Midlands, he had been a member of the Postgraduate Education Board, a postgraduate tutor, coordinator for dental nurse access training and Associate Dental Dean, overseeing and running over 100 courses per year. After being awarded the MFGDP(UK), he became a regional MFGDP tutor, later serving as an examiner, then Deputy Chief Examiner, until 2009. As a member of the MFGDP Core Group he was responsible for the OSCE circuit and overseas examinations, and he was involved in planning the merger of the MFGDP and MFDS examinations into the MJDF.
He also lectured and taught throughout the UK as well as in Hong Kong, India, Gibraltar, Singapore and Nepal, on legislative and practice management topics as well as aspects of the MFDGP and MDJF. He achieved the Award in Medical Education from the University of Warwick, and later became an Honorary Clinical Lecturer at its medical school, and for three years he was a Senior Lecturer at the University of Kent, as well as Quality Assurance lead for its MSc in Primary Dental Care.
Bob was on the FGDP West Midlands divisional board for over fifteen years, including three as Divisional Director, and served on the FGDP Education Committee throughout his thirteen years as an elected representative on the National Faculty Board. He contributed to the Legislation and Good Practice Guidelines module of the Faculty's Key Skills in Primary Dental Care e-learning package, wrote a series of articles about Key Skills for First Hand (one of the forerunners of the Primary Dental Journal), and was a member of the Interfaculty Membership Development Group of the FGDP and the Faculty of Dental Surgery of the Royal College of Surgeons of England (FDS). Achieving Fellowship of the FDS in 2008, he was awarded Honorary Fellowship of the FGDP in 2012.
He was a member of the BDA, on Dudley LDC for over 30 years, and for four years acted as Regional Advisor and Consultant Clinical Assessor for Bupa Dental Cover. Also actively involved in the community outside of dentistry, he was a member of the West Midlands Library Development Group, Chairman of Belbroughton Parish Council, and Area Chairman and past President of the local Round Table. He was also Chairman of the PTA during the school years of his daughter, Sarah – who is now a dental hygienist and dental team representative on the College Council.
On top of his many professional and civic involvements, Bob had a rich array of hobbies and sporting interests. A French speaker, he enjoyed family caravanning holidays in the south of France, as well as skiing trips to the French, Swiss and Austrian Alps. He was a fan of Welsh rugby, liked playing tennis, ran the London and Paris marathons, and made the Guinness Book of Records in 1982 for driving around Britain. He was a keen gardener, photographer and party host, his Christmas lights were said to be better than the Blackpool Illuminations, and he enjoyed taking his granddaughters Georgia and Louisa 'Gruffalo hunting' in the woods near their home.
He was kind, generous, welcoming, and had a cheeky smile that belied his strong will. He was very ill in 2011, but survived against all the odds and continued to play an active but non-clinical role in his practice. He passed away peacefully at Worcestershire Royal Hospital on Thursday 14 July 2022, with Sue and Sarah by his side and surrounded by his favourite flowers from his pride and joy of a garden.