Saturday 7 October 2023, 2.00pm-2.45pm, London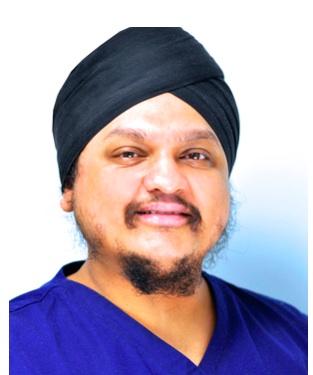 Enhanced CPD Theatre, Hall N9, ExCeL London, Royal Victoria Dock, 1 Western Gateway, London E16 1XL
This lecture will offer delegates up-to-date knowledge in order to sustain life when a medical emergency occurs in general dental practice.
It will be delivered by Dr Sukhvinder Singh Atthi FCGDent, a lecturer in oral surgery at the University of Birmingham, and Tier II-accredited Oral Surgeon who treats nervous minor oral surgery patients with intravenous sedation. With 25 years' experience working as an associate then principal dentist in general dental practice, he has also worked part-time in the Community Dental Service and spent part of his vocational training working in oral maxillofacial surgery units. He holds Master's degrees in both Orthodontics and Oral Surgery, Postgraduate Certificates in Conscious Sedation, Leadership & Management and Learning & Teaching in Higher Education, the Diploma of Fellowship and Certificates in both Minor Oral Surgery and Dental Practice Appraisal from the FGDP(UK), and is qualified to ILM Level 5 in Coaching and Mentoring in Management. He is a Fellow of the College of General Dentistry and Higher Education Academy, an experienced dental trainer, and has been a board member of CGDent West Midlands (previously the FGDP West Midlands Division) since 2013.
Objective:
To enable the early recognition and management of deterioration in a patient that may become medically compromised during their dental treatment
To understand how to use mandatory drugs within an medical emergency
Learning outcomes:
Awareness and management of medical emergencies within dental practice
Review mandatory audit processes for drugs to use in medical emergencies
Knowledge of how to deal with an unconscious patient
Recognise and manage suspected sepsis
CPD:
GDC development outcomes:
This lecture is free to attend for both members and non-members of the College, and is one of five College sessions at Dentistry Show London 2023, a two-day conference hosting over 100 CPD lectures, 180 exhibitors and over 3,000 dental professionals. It is not possible to register specifically for this lecture in advance, but those wishing to attend will need to register for Dentistry Show London 2023 either in advance or on the day.
Conference registration is FREE for all dental professionals, and we recommend registering in advance to avoid unnecessary queueing on the day – just click the button below.
Conference visitors are also encouraged to drop by Stand G52 to meet College representatives.