COVID-19 and related guidance
Our range of resources to support the safe management of Covid-19 in general dental practice include comprehensive, practical guidance on the safe return to practice and guidance synopsis, practice and treatment checklists, a fallow-time calculator and psychological advice for dental teams.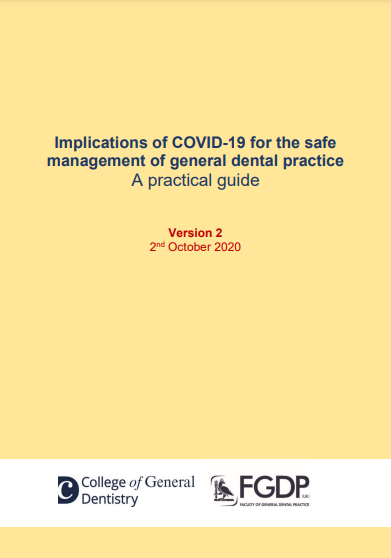 It is available to view online free of charge, however you will need to log in or register an account.
This content has been restricted to logged in users only. Please
login
to view this content.
Related articles
CGDent members have free access to these articles, and further papers on this topic. To search the PDJ archive, please ensure you are logged in to this website.
The Impact of COVID-19 on Paediatric Dental Services and Tips for Patient Management by Minnie Lyons-Coleman, Elizabeth O'Sullivan, Wendy Thompson (January 2022)
Urgent Dental Care and COVID-19 by Wendy Thompson (November 2021)
Provision of Dental Care by Public Health Dental Clinics During the COVID-19 Pandemic in Alberta, Canada by Heidi Rabie, Rafael Figueiredo (November 2021)
COVID-19 Pandemic: The Urgent Dental Hub Experience from a Primary Care Perspective by Zohaib Khwaja, Awais Ali, Manraj Rai (November 2021)
Traumatic Dental Injuries During the COVID-19 Pandemic by Julian Woolley, Serpil Djemal (March 2021)
Non-members who wish to read one of these papers, or other Primary Dental Journal articles, have the option to join the College or subscribe to the PDJ.
Related events, news & blogs
The new edition of the Primary Dental Journal, The General Issue – part 1, is now online. In contrast to themed editions of Primary Dental Journal…
Infection Prevention and Control – Learning from Covid-19 & AMR 26 & 27 April 2022, National Conference Centre, Birmingham This year, the NHS Infection Prevention…
The College of General Dentistry and British Association of Dental Nurses (BADN) are warning of a potential catastrophe for dental patients if the planned implementation…