COVID-19 and related guidance
Our range of resources to support the safe management of Covid-19 in general dental practice include comprehensive, practical guidance on the safe return to practice and guidance synopsis, practice and treatment checklists, a fallow-time calculator and psychological advice for dental teams.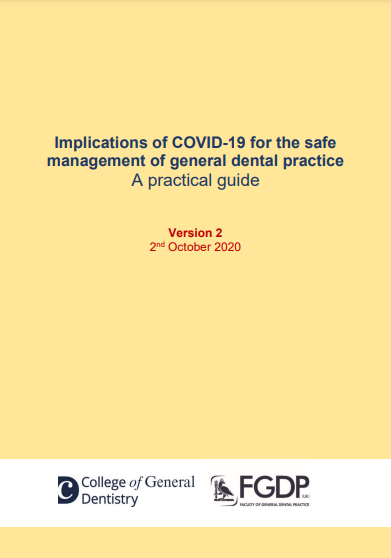 It is available to view online free of charge, however you will need to log in or register an account.
This content has been restricted to logged in users only. Please
login
to view this content.
Related articles
CGDent members can view full articles via the links below by first visiting the PDJ Member Access page and clicking 'Access the PDJ Archive'.
Non-members who wish to read one of these papers, or other Primary Dental Journal articles, have the option to join the College or subscribe to the PDJ.
Related events, news & blogs
The latest issue of the Primary Dental Journal, Urgent dental care and COVID-19, is now online. In it, we reflect on dentistry's response to a global healthcare challenge, with articles from colleagues around the world. The following articles are free to view for all dental professionals by visiting https://journals.sagepub.com/toc/prda/current: Urgent dental care and oral health under the clouds of COVID-19 (Igor R Blum) (Editorial) Urgent dental care and COVID-19 (Wendy…