The College and FGDP(UK) have published a synopsis of their guidance on the implications of COVID-19 for the safe management of general dental practice.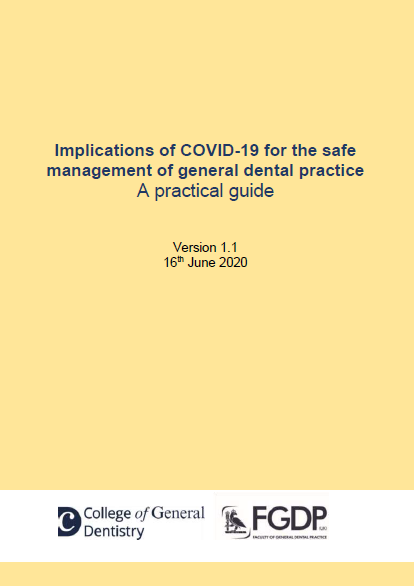 The new synopsis highlights key recommendations at each step of the patient journey, and is designed to be used in conjunction with the guidance, which supports dental professionals to take a risk-based approach to providing safe care, whatever the national COVID-19 threat level.
The guidance, originally published on 1 June, has also now been updated with some minor amendments. Among these, prophylactic polishing of teeth has been added to the risk stratification matrix, use of face coverings by all patients and carers in non-clinical areas is now recommended (in line with government advice on preventing transmission in enclosed public spaces), and the use of shoe and head coverings is only now advised when indicated by a risk assessment. There are also some clarifications, such as around selection of PPE based on a risk assessment, and on the mopping of floors between patients following treatment carrying a high risk of exposure to aerosol.
Both the synopsis and guidance are available on the FGDP and CGDent website.
Production of the synopsis has been supported by Sensodyne.