Emyr Meek, a recent graduate from Cardiff University School of Dentistry, is the winner of the inaugural Art & Science of Dentistry Prize from the College and the Dental Society of Wales – Y Gymdeithas Ddeintyddol. The prize is for dental students in Wales, and Emyr's submission is a poster about contract reform in Wales.
To enter the prize, students had to submit a referenced vlog or poster featuring their investigation, literature review or primary research into a subject relevant to general dental practice which has had an influence on the improvement of oral health care for all.
Emyr's poster charts contract reform in Wales. The poster explains the changes that have been made to the dental contract and the Dental Contract Reform Programme. It goes on to examine recent developments, in particular the Assessment of Clinical Oral Risks & Needs (ACORN), and discusses the impact on oral health. In a recorded online presentation made in both Welsh and English, Emyr explained the detailed information included on the poster.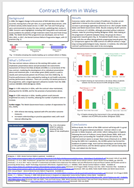 You can watch a recording of his presentation in English here and in Welsh here.
Emyr will be presented with his prize at the postponed Dental Society of Wales – Y Gymdeithas Ddeintyddol Annual Study Day in 2021.
We wish Emyr many congratulations on his success.