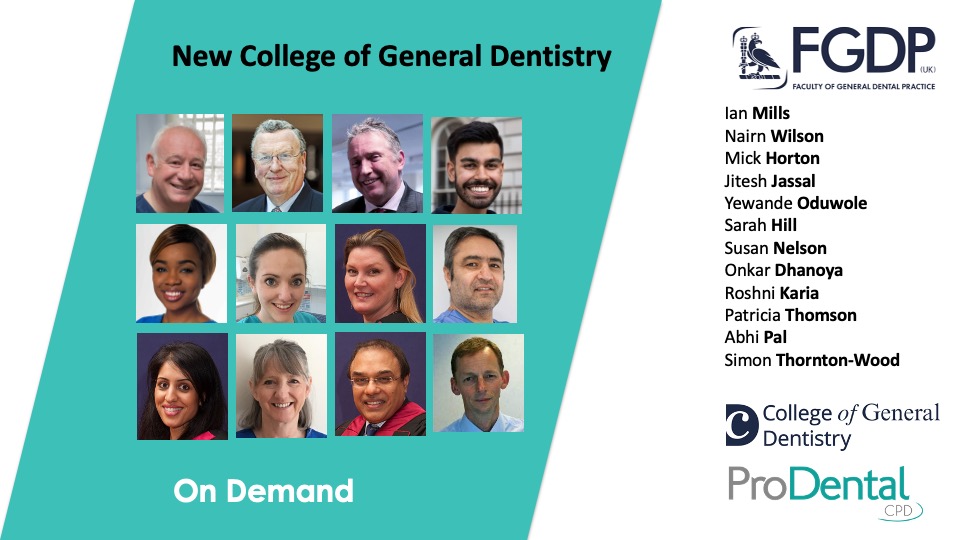 Recorded webinar. Thursday 27 May 2021.
Speakers explore the purposes and benefits of the new College of General Dentistry (CGDent), covering:
Why there is a need for a (Royal) College for Dentistry
Background & history of the FGDP(UK)
The challenges facing dentistry today – four perspectives
How a new College can address these challenges
Why dental professionals should join the College of General Dentistry
How to join the College of General Dentistry
Panellists:
Ian Mills, Dean, FGDP(UK) (Chair)
Nairn Wilson, Founding President, CGDent
Mick Horton, Past Dean, FGDP(UK) & Trustee, CGDent
Jitesh Jassal, dental undergraduate student, King's College London & President of the British Dental Students Association
Yewande Oduwole, dental foundation trainee & CGDent Ambassador
Sarah Hill, dental hygienist & FGDP(UK) DCP Representative
Susan Nelson, Vice Dean, FGDP(UK)
Onkar Dhanoya, Vice Dean, FGDP(UK)
Roshni Karia, Chair of Education, FGDP(UK)
Tricia Thomson, Chair of Membership Affairs, FGDP(UK)
Abhi Pal, President Elect, CGDent
Simon Thornton-Wood, Director FGDP(UK)
FGDP(UK) members will hear specifically about what they need to do now to become members of the new College, and what membership will offer them following the transition from FGDP(UK).
Following presentations, the panellists answer questions from participants.
CGDent members and ProDental subscribers have free access to the recording and can claim CPD for free. A £20 fee will apply for non-members/non-subscribers.
Membership of the College of General Dentistry is open to all registered dental professionals and benefits include access to 900+ hours of CPD, a linked e-PDP and free access to the CGDent-ProDental CPD webinar programme. Further membership benefits are detailed at https://cgdent.uk/benefits/.
Membership for dentists is available from £94, and other registered dental professionals pay £33. The full list of CGDent membership rates is at https://cgdent.uk/membership-fees/. To join CGDent, visit https://cgdent.uk/join.