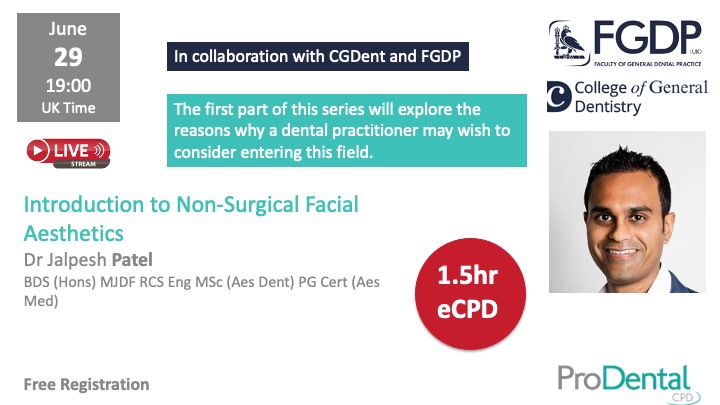 Recorded webinar. Tuesday 29 June 2021.
Dr Jalpesh Patel explores the reasons why a dental practitioner may wish to consider entering the field of non-surgical facial aesthetics, and how a structured approach to learning and appreciating the commercial aspects of this industry will provide the best foundations to excel as well as meet regulatory requirements. It also identifies common early stage pitfalls and how to avoid them.
Hosted by the Faculty of General Dental Practice (UK), College of General Dentistry and ProDental CPD, This is the first in a series of webinars which encompass an overview of non-surgical facial aesthetics, clinical cases for learners to develop an appreciation of the clinical aspects of the patient journey, as well as anatomy, and finally complications that can arise when delivering cosmetic injectables. These webinars are aimed at practitioners who are considering expanding their scope of practice to include non-surgical facial aesthetics, as well as early stage facial aesthetic practitioners who wish to steer their careers further into this field.
Speaker: Dr Jalpesh Patel BDS (Hons) (Lond) MJDF RCS Eng MSc (Aes Dent) PG Cert (Aes Med)
Dr. Patel is a dental practitioner, advanced facial aesthetic practitioner, and founder of the RASA Academy, a Trusted Provider for the CGDent Postgraduate Certificate in Non-Surgical Facial Aesthetics. He holds a Master's in Aesthetic Dentistry from King's College London (graduating with distinction) and a Postgraduate Certificate in Skin Ageing and Aesthetic Medicine from the University of Manchester, and is a member of the Practitioner Register Committee of the Joint Council of Cosmetic Practitioners.
CGDent members and ProDental subscribers have free access to the recordings and can claim CPD for free. A £20 fee will apply for non-members/non-subscribers.
Other webinars in this series:
To receive information on upcoming events, sign up to the CGDent newsletter.
Membership of the College of General Dentistry is open to all registered dental professionals and benefits include access to 900+ hours of CPD, a linked e-PDP and free access to the CGDent-ProDental CPD webinar programme. Further membership benefits are detailed at https://cgdent.uk/benefits/. Membership for dentists is available from £94, and other registered dental professionals pay £33. The full list of CGDent membership rates is at https://cgdent.uk/membership-fees/. To join CGDent, visit https://cgdent.uk/join.