The Faculty of General Dental Practice has published Equality, diversity and inclusion within dentistry – a profession-wide commitment, the report of the Diversity in Dentistry Action Group (DDAG), to which the College has contributed.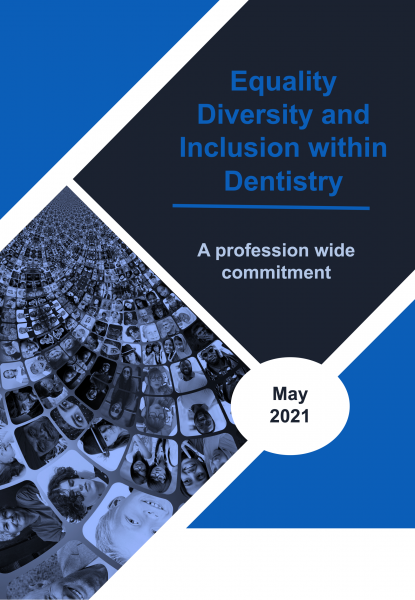 The DDAG, chaired by Nishma Sharma, was set up last year by the Chief Dental Officer for England to take forward a programme of work to promote diversity and inclusion in the dental profession, and brings together representatives of 35 stakeholder organisations, including the College and FGDP(UK), to promote collaborative action. Its priorities are to create a diverse, inclusive and representative workforce with equal opportunities in the workplace; to create diverse, inclusive and representative educational environments; and to ensure equitable access to dental care for patients.
In the report, the group highlights significant under-representation of individuals from ethnic minority backgrounds, and of women, in leadership positions within dentistry, and identifies significant disparities in the ethnic profile of dental students, professionals and clinical academics. The report represents an unprecedented joint commitment by dental organisations to a set of key principles for change, and makes a number of recommendations, including:
Developing strategies for positive, sustainable change with short-term, medium-term, and long-term approaches to be implemented across the profession.
Working collaboratively to influence policy, shape culture and transform the profession's approach to race equality, learning from other sectors to identify opportunities for change.
Promoting open and ongoing profession-wide conversations to support continuous improvement.
Developing the workforce, across the dental pipeline from dental school entry, apprentice / training programmes to senior leadership, through education, role modelling and leadership development.
Supporting research and the collection of high-quality data and lived experiences data to improve understanding of inequalities and address the barriers to a diverse and inclusive environment.
Ensuring a profession wide commitment to zero tolerance of racism and discrimination.
Ian Mills, Dean of the FGDP(UK) and Trustee of CGDent, has said that dental leaders have a "moral obligation [to] support social justice through a culture and environment of inclusivity", and in response to the Black Lives Matter protests in June 2020 the Faculty committed to educate itself about the issues that affect BAME communities, and to work with others to actively promote equality, diversity and inclusiveness in general dental practice.
An Equality, Diversity and Inclusion Programme Board, chaired by FGDP(UK) Vice Dean Onkar Dhanoya FFGDP(UK), was established in conjunction with the College to oversee delivery of the FGDP's commitments, and the FGDP, CGDent and British Dental Association established a Racial Equality, Diversity and Inclusion Working Group, chaired by Martin Wanendeya MFGDP(UK), to look specifically at disadvantages and inequality of opportunity among ethnic minorities within the dental professions.