Professor Avijit Banerjee sits on the College's Career Pathway Reference Group. We asked him to share his own career path with us and set out how CGDent's Career Pathways will benefit dentistry and the wider oral healthcare profession in the UK.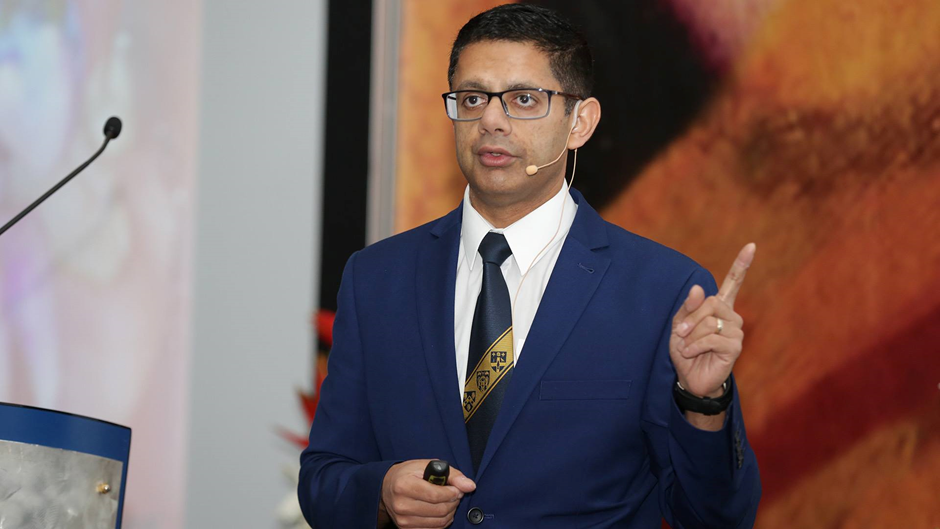 My personal career pathway
After qualifying as a dentist from Guy's in 1993, I wanted to train as a specialist clinician, teach and carry out dental research. Thirty years ago, such formal career pathways were more varied, with no real roadmap available detailing what experience was required or what qualifications were needed etc etc. Thus, I forged my complex personalised career pathway in clinical academia by gaining advice and mentorship from key individuals in my career.
The first stage started with what was then called "house jobs" in Queen Alexandra Hospital, Portsmouth in Oral & Maxillofacial Surgery followed by an18-month rotation at Mount Vernon, Hillingdon and Watford General Hospitals. I learned / osmosed so many surgical skills and patient management skills, working with hospital and primary care teams and making lifelong friends along the way. During these latter senior house officer (SHO) posts, I completed my primary and final FDS RCS (Eng), which in those days had a pass rate of only 10%!
It was at this stage, I started to look at my research career in more depth. After carrying out scientific research as a dental undergraduate and publishing my first research paper the year I qualified, I was bitten by the bug and wished to pursue this aspect of my career by studying for a PhD. So, whilst an SHO, I collaborated with my supervisors back at Guy's and applied for a Medical Research Council Clinical Training Fellowship which would cover my 3 yr salary and costs for my PhD. I was extremely fortunate to win this national award (at that time only two other dentists had been awarded this prestigious MRC Fellowship in the past 30 yrs).
Between the years of 1995-98 I carried out my research full-time at Guy's, which also included a masters in the first year, at UCL. I was acutely aware of the importance of maintaining wet-fingered clinical practice, so I also got a part-time job in primary care general dental practice, working two sessions/week, evenings and weekends. Forging such a career path involves much ball juggling and during this period, I became adept at this!
After finishing my PhD (in Cariology and Operative Dentistry), I was lucky enough to get a full-time substantive clinical lecturer's position in Guy's, in Conservative Dentistry. This role allowed me to develop my teaching, research and management/leadership skills. During the next 7 yrs, I completed my clinical specialist training in Restorative Dentistry, continued with my research (supervising masters and doctorate students, writing grants and papers, and lecturing at international conferences) and developed my teaching and management skills, leading clinical teachers and UG students.
From 2005, I was promoted with seniority, firstly to senior lecturer and ultimately, 10 yrs ago, to a personal Chair at Guy's with an Honorary NHS Consultant contract with Guy's & St. Thomas' Hospitals Trust. I am now privileged to hold several senior national roles within the profession and have an international lecturing/research reputation in my discipline.
All this time, I have continued to work in private practice, reduced now to two sessions/month. It is always wise in my opinion, not to close off any opportunities during one's career progression as you never know how things will transpire. It is the variety of experiences that develop and enrich one's career until the day you retire.
The need for career pathways
I have learned a lot about myself (and others) during my career. Although hard work, but fulfilling, there was much left to chance and the support I received was welcome but hard-sought. The processes in those days were less transparent perhaps, but equally competitive as they are now.
The world has changed.
Therefore, the processes available to encourage, enhance and enrich career progression must also evolve.
The traditional qualification-based linear progression through one's chosen discipline needs to be questioned with regards to its value, appropriateness and modern-day inclusivity. A more holistic, depth and breadth of quality of experience-based approach will empower individuals to take control of their training and allow inter-disciplinary cross-over.
The College of General Dentistry Career Pathway Reference Group was created with the remit to help develop and guide this structure and ultimately its implementation. We are collating the results from the working groups convened for each oral healthcare team member career pathway. The working groups consist of expert influencers within the specific professional stakeholder groups, including dental nurses, clinical dental technicians, orthodontic technicians, hygienists, dental therapists and dentists.
The Reference Group wisely has representation from all oral healthcare team members, accepting that "one size does not necessarily fit all" when considering career progression milestones. The CGDent challenge will be assessing, quality assuring and validating the huge variety of holistic evidence that could be attained for each of the seven oral healthcare clinical career pathways, to provide and align milestones to allow progression of team members from safe beginners to accomplished practitioners throughout their career.
This is a huge project with hugely positive implications for the oral and dental profession as a whole. Inclusivity of team roles, the appreciation of different forms of training and how it affects the individual, adaptation and quality assurance are all challenges to overcome, to allow a flexible, career-enabled and inclusive workforce to develop and deliver better oral health to our nation.
You may also be interested in reading blogs from Andrea Johnson, orthodontic & maxillofacial laboratory manager, and Dr Heather Mitchell community dentist, who are both part of the Career Pathways development team.