Recorded webinar. Tuesday 11 January 2022, 7pm.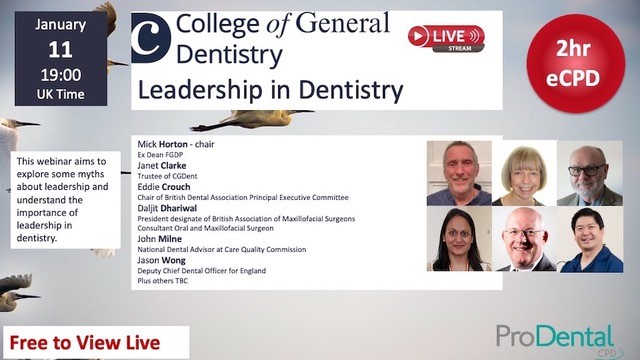 This webinar is part of our 'PDJ Live' series, which examines topics covered in contemporary issues of the Primary Dental Journal, the College of General Dentistry's quarterly peer-reviewed member journal for the whole dental team. It is one of three events which convene a range of voices from across the profession, including some of the authors, to explore the subjects of the papers in the June 2021 issue on leadership and professionalism.
We explore some of the myths about leadership and understand the importance of leadership in dentistry. We also examine the skills that all good leaders should have and how to gain and improve them.
Chair:
Mick Horton, former Dean FGDP(UK)
Speakers:
Janet Clarke MBE, Chair of the Board of Trustees of the College of General Dentistry / Chair of Community Dental Services CIC / a Trustee of the Oral Health Foundation
Eddie Crouch, Chair of the British Dental Association's Principal Executive Committee
John Milne, Senior National Professional Advisor, Dentistry, CQC
Jason Wong MBE, Deputy Chief Dental Officer for England
Daljit Dhariwal, President designate of British Association of Maxillofacial Surgeons / Consultant Oral and Maxillofacial Surgeon
CGDent members and ProDental subscribers can claim CPD hours for free and have access to the recording after the event. A £20 fee will apply for non-members/non-subscribers who wish to claim CPD.
This webinar is part of the new partnership between the College of General Dentistry (CGDent) and ProDental CPD.
Membership of the College of General Dentistry is open to all registered dental professionals. Membership for dentists is available from £94, and for other registered dental professionals from £33. The full list of CGDent membership rates is at https://cgdent.uk/membership-fees/.