The latest issue of the Primary Dental Journal, Urgent dental care and COVID-19, is now online. In it, we reflect on dentistry's response to a global healthcare challenge, with articles from colleagues around the world.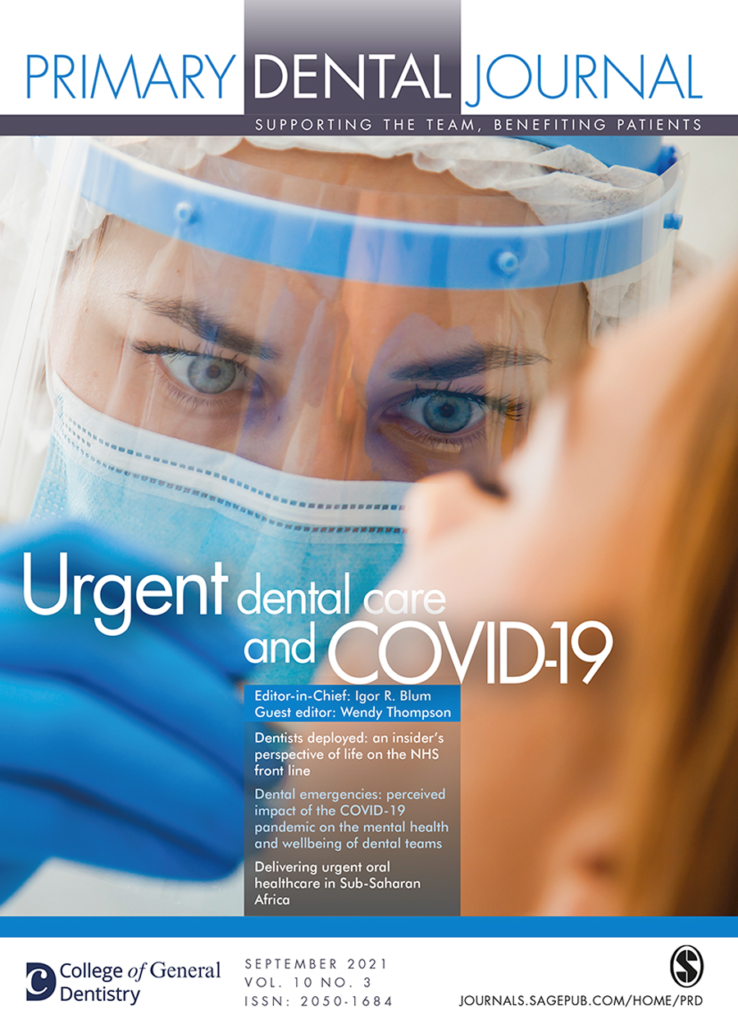 The following articles are free to view for all dental professionals by visiting https://journals.sagepub.com/toc/prda/current:

Urgent dental care and oral health under the clouds of COVID-19 (Igor R Blum) (Editorial)
Urgent dental care and COVID-19 (Wendy Thompson) (Guest Editorial)
COVID-19 lockdown and recovery: a dental public health perspective from Lancashire and South Cumbria (Ross Keat)
COVID-19 Pandemic: The Urgent Dental Hub experience from a primary care perspective (Zohaib Khwaja, Awais Ali, Manraj Rai)

Members of the College of General Dentistry can unlock all articles by visiting https://cgdent.uk/primary-dental-journal-member-only. You will need to be logged in to the CGDent website.
Member-only content includes:
President's update (Abhi Pal)
Research abstracts: Urgent dental care and COVID-19 (Ario Santini)
Dentists deployed: an insider's perspective of life on the NHS front line (Harriet E Powell)
Provision of dental care by public health dental clinics during the COVID-19 pandemic in Alberta, Canada (Heidi Rabie, Rafael Figueiredo)
Understanding behaviour change to promote regular dental attendance (Jessica Holloway)
Dental Emergencies: Perceived impact of the COVID-19 pandemic on the mental health and wellbeing of dental teams in the UK (Fiona Ellwood)
Delivering urgent oral healthcare in Sub-Saharan Africa: supporting sustainable local development (Rachael England, Andrew Paterson, Adam Jones)
Primary care research: views of a dental team on their experiences of a primary care study (Reem Al-Nashi Elia, Javed Ikram, Tim Clayton, Victor Chow, Emily Aldred, Kim Pilotille, Nichola Stones, Zhain Mustufvi)
CGDent members and PDJ subscribers should expect their printed copies to arrive in the next 2-3 weeks.