The College of General Dentistry has published new guidelines on mentoring in implant dentistry.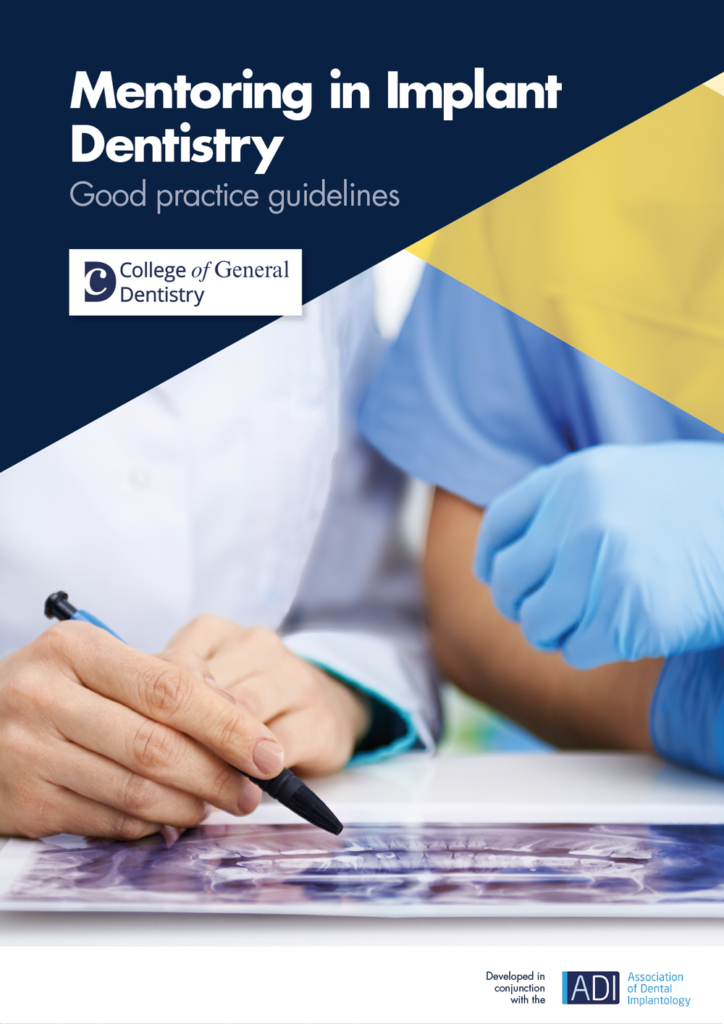 Mentoring in Implant Dentistry: Good Practice Guidelines describes the nature of mentoring which should be undertaken in order to safely carry out implant dentistry following completion of an appropriate training course, including:
the experience, skills and qualities expected of a mentor
the experience, skills and qualities expected of a mentee
the mentoring process
the mentoring agreement
Providing practical help to mentors and mentees, it also sets out the component parts of three recommended means of work-based assessment during the mentoring process: Case-Based Discussion, Direct Observation of Procedural Skills and Clinical Evaluation Exercise.
Designed to support educators and students, and to promote patient safety, the new document complements Training Standards in Implant Dentistry. Developed by the former Faculty of General Dental Practice (FGDP) and now published by the College, this has defined the accepted standards of training in implant dentistry in the UK since 2005, and includes a requirement to have an experienced clinician acting as a mentor. However, this requirement has not previously been expounded upon, and the publication of Mentoring in Implant Dentistry: Good Practice Guidelines seeks to address this.
The College of General Dentistry – intended Royal College – is the independent professional body into which the FGDP transferred upon its separation from the Royal College of Surgeons of England last year. Building on the legacy of the Faculty, it is the UK's only medical college run by and for oral health professionals, and is unique in welcoming all dental and oral health professionals with relevant postgraduate qualifications into full membership.
The new guidelines are the result of a collaboration between the College and the Association of Dental Implantology, and were developed by a joint working group. Their publication follows consultation with over 30 organisations and individuals with interests and expertise in the field, and they have been endorsed by the Association of British Academic Oral and Maxillofacial Surgeons, the British Association of Oral Surgeons, the Foundation for Oral Rehabilitation, and the UK and Ireland sections of the International Team for Implantology and the Platform for Exchange of Experience, Research and Science.
The document is the College's first new standards publication since its formal launch last year, and is available to view online free of charge, alongside its COVID-19 guidance and all of the guidance and standards documents of the former FGDP.
College members can also download the publication for personal use, and have access to search, text-select and print functionality. Membership is available from £94 per year for dentists, and from £33 for all other dental professionals.
Dr Abhi Pal, President of the College of General Dentistry and Co-Editor of the new guidelines, said:
"The publication of Mentoring in Implant Dentistry befits our mission to empower dental professionals to deliver high standards of care, and I am delighted that the College is building on the legacy of the FGDP in supporting practitioners to develop their clinical skills in this significant and evolving field of practice. The guidelines will act as an important adjunct to Training Standards in Implant Dentistry, and I would like to express my thanks to all those involved in their development."
Click here to view Mentoring in Implant Dentistry: Good Practice Guidelines