**PLEASE NOTE THAT THIS EVENT HAS BEEN POSTPONED. IF YOU HAVE BOOKED A TICKET TO THIS EVENT, THE BSRD WILL CONTACT YOU SHORTLY. FOLLOW THE LINK FOR MORE INFORMATION**
Thursday 18 May & Friday 19 May 2023, RHS Garden Wisley, Surrey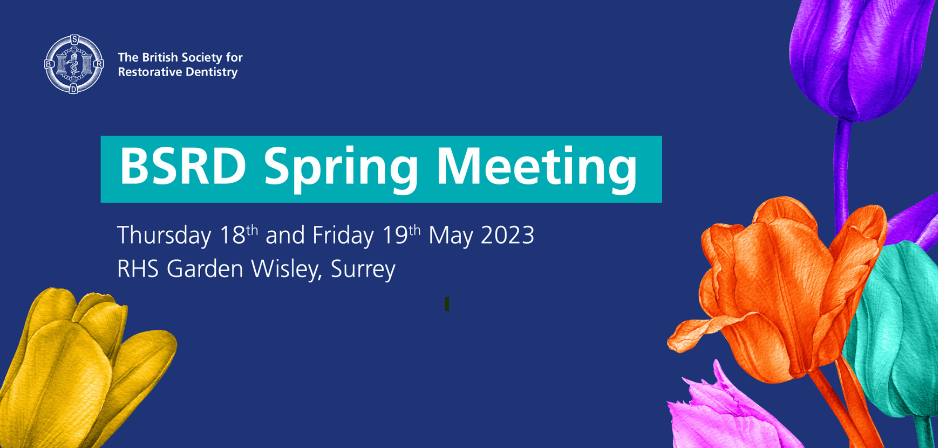 Biomimetics…..bio sustainability?
The British Society for Restorative Dentistry's Spring Meeting, will examine a range of topics related to Biomimetics in dentistry, delivered by an array of speakers from across the dental profession.
Speakers & topics:
Maarten de Beer – Biomimetic Dentistry: Unravelling the Hype; IDS & DME: Creating the Biobase; Lifehacks in Dentistry
Erik-Jan Muts – White spots: the Infiltration Concept; Direct and Indirect Posterior Restorations
Pedja Pavlovic – Perio and Implants: Marriage Made in Heaven or Hell?
Robert Stone – Reflecting on 20 Years of Biomimetics in Practice. Biomimetics and Microscopy Practice
Eoin O'Sullivan – Can Digital Workflows Facilitate Biomimetic Dentistry?
Early bird offer ends 31 March
COLLEGE MEMBERS ARE INVITED TO ATTEND THE EVENT FOR THE SAME DISCOUNTED FEE AS BSRD MEMBERS