The latest edition of the Primary Dental Journal, the Aesthetic dentistry part 1 issue (vol.12, no.2), is now live online.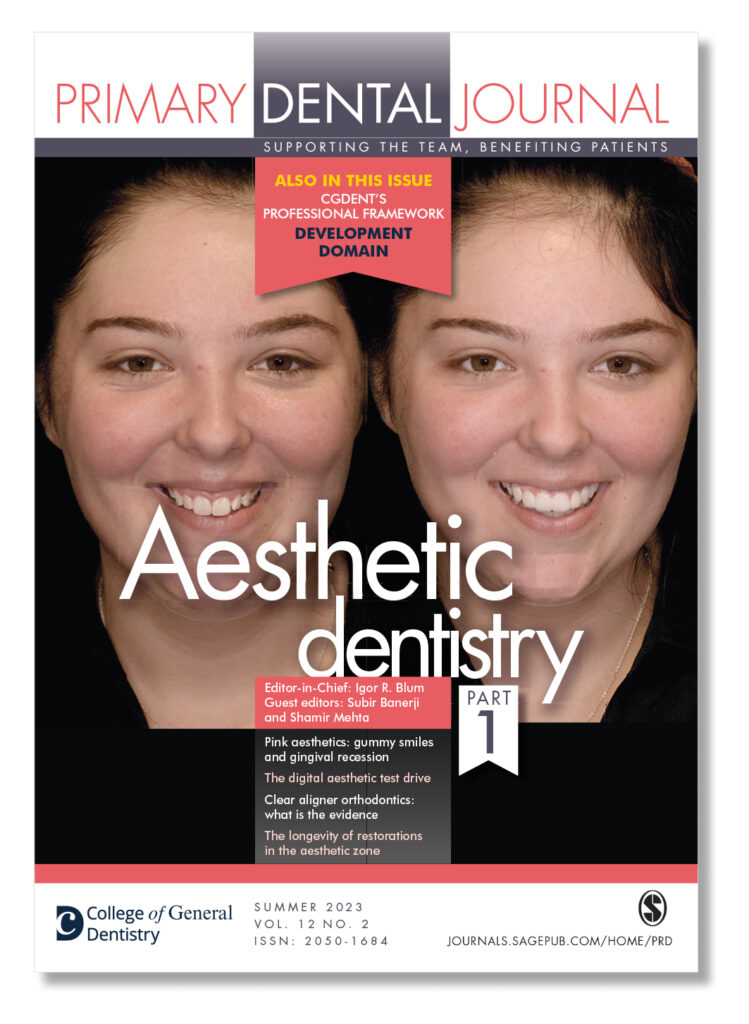 This issue is guest edited by two renowned experts in the field, Subir Banerji (Programme Director MSc Aesthetic dentistry, King's College London) and Shamir Mehta (Professor of Aesthetic dentistry and Programme Lead, MSc Restorative and Aesthetic dentistry at CoMD/Ulster University).
In this part 1 issue, and the following part 2 issue, the Guest Editors have selected a range of topics pertinent to the whole team of dental professionals, including discussions on the "ideal" smile, clear aligners, and how digital dentistry can assist in aesthetic treatment planning. A full list of part 1 papers can be found below, together with papers anticipated
The issue also features the penultimate in five domains from the College's Career Pathways in Dentistry: Professional Framework, which describes the knowledge, skills and other attributes expected of primary care dental professionals at different career stages – from safe practitioner through to accomplished practitioner. The 'Development' domain published in this issue will be followed by the final domain, 'Agency', in the following issue of the Primary Dental Journal. The first three domains, 'Clinical & Technical' and 'Professionalism' and 'Reflection', were published in the Autumn and Winter 2022 and the Spring 2023 issues, and every domain for all career stages can be viewed online, using the above link.
Full access to the majority of articles is reserved for College of General Dentistry members and Primary Dental Journal subscribers. For non-members / non-subscribers, individual print issues are available to purchase from £41. An annual print subscription, normally costing £125, is included with membership of the College. Membership is available from £125 for dentists, from £83 for other dental professionals, and from £42 for Dental Nurses and those eligible for a concession and also includes online access to the PDJ Archive of over 1,300 articles, and a range of other benefits.
CGDent members and PDJ subscribers should expect their printed copies to arrive in the next 2–3 weeks.
On behalf of the College, the PDJ editorial team would like to express its gratitude to all the authors and peer reviewers who have contributed to the publication of this issue.
CGDent members can view full articles by logging in via the yellow button below, then clicking 'Access the PDJ Archive':
At least one paper in each issue is made available online free of charge on an Open Access basis. Non-members can view all other full articles using the purchase options presented when clicking the individual article links below, or can use the links above to purchase a complete issue or an annual subscription, or become a member.
PDJ Summer 2023 Aesthetic dentistry part 1 issue contents
The next issue of the journal will continue with the topic of Aesthetic dentistry, and is due out in Autumn 2023. Anticipated papers include:
Adhesion to enamel and dentine: an update
The longevity of tooth-coloured materials used for restoration of tooth wear – an evidence-based approach
A survey of retention and support for anterior bounded saddles of removable partial dentures
Complications of toxins and fillers in facial aesthetics
Aesthetic management of tooth size discrepancies
Aesthetic management of incisors in children
This article was first published on 19 June 2023 and was updated on 5 July 2023 with the titles of paper anticipated for the Aesthetic Dentistry Part Two issue.