The College of General Dentistry (CGDent), which opened following the separation of the Faculty of General Dental Practice (FGDP) from the Royal College of Surgeons (RCS) in 2021, has now admitted over 400 dental professionals into Fellowship in recognition of their high-level and wide-ranging capabilities.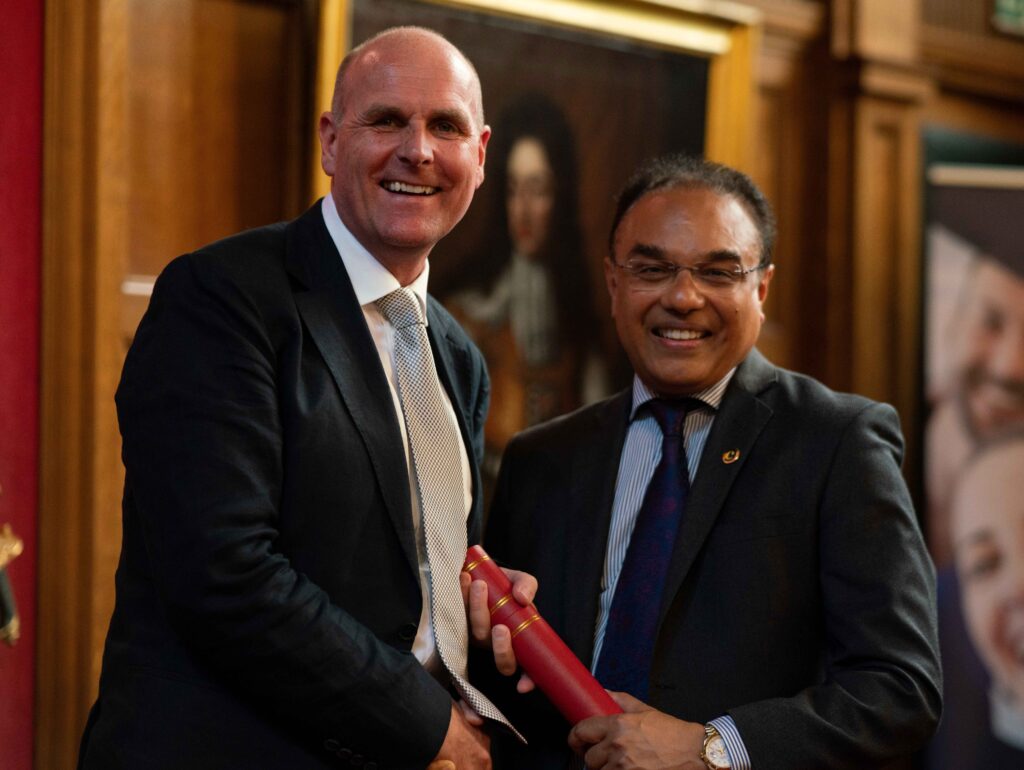 Louis Mackenzie, Head Dental Officer at Denplan (Part of Simplyhealth), clinical lecturer at Birmingham Dental School and King's College London, and GDP in Selly Park, being formally welcomed into Fellowship by CGDent President Abhi Pal at the College's 2023 Fellows' Summer Reception
Fellowship, which is denoted by the postnominal letters 'FCGDent', is the highest membership grade of the College. The mark of accomplishment in general dentistry, it indicates a dental professional's commitment to professional development and reflective practice, diligence in upholding the highest standards of clinical care, and distinction across clinical and professional domains.
Fellows are listed in the College's online Member Register, and are eligible to wear a special lapel pin and to attend biannual Fellows' Receptions, at which new Fellows have their Fellowship formally presented. Most recently, the College presented 47 individuals with their Fellowships in front of 120 Fellows and Associate Fellows at their Summer Reception.
The primary means of establishing eligibility for Fellowship is by experience, a route launched last year to recognise a wide range of skills, knowledge, experience and qualifications relevant to dentistry and oral healthcare, with transparent criteria and a straightforward application process. Applicants must demonstrate that they meet the requirements of at least three of five fellowship domains, for each of which detailed criteria have been published: Clinical; Teaching, Learning & Assessment; Leadership & Management; Publications & Research; and Law & Ethics.
Fellowship eligibility can also be established by equivalence for those already awarded Fellowship by the former FGDP(UK), by any of the UK and Ireland Royal Colleges or their Faculties of Dental Surgery (FDS) or Dentistry (FFD), by the Royal Australasian College of Dental Surgeons (FRACDS), Royal College of Dentists of Canada (FRCDC) or College of Dentistry of South Africa (FCD[SA]), or to those who are Board Certified by the American Board of General Dentistry.
The College Council may also invite an individual into Fellowship when satisfied that their career and qualifications demonstrably meet the requirements for an application either by experience or by equivalence.
Additionally, former Fellows of the FGDP who elected to transfer directly to the College when the Faculty separated from the RCS were automatically admitted to Fellowship of the College without the need for application.
However, while there are different routes to College Fellowship, there are no different types of College Fellowship. Having demonstrated by whichever means that they meet the required standard, all College Fellows enjoy equal standing.
Addressing those gathered at the Summer Reception, College President Abhi Pal said:
"Fellowship of our College is a reflection of the years of sustained professional development you have undertaken throughout your career. No matter which path you have taken to Fellowship, it has required sacrifice and perseverance for the ultimate purpose of service to your patients and the profession. I not only commend you for that, but firmly believe the College of General Dentistry is the only body that will give recognition for these efforts. Admittance to Fellowship should however not be the end of a journey, but the start of another chapter."
Fellowship is open to all members of the dental team should they meet the requirements, and suitably experienced and qualified dental professionals are encouraged to apply.
Prospective applicants may be interested to read about the career journeys of a selection of College Fellows here.
The following College members have been admitted to Fellowship:
| | |
| --- | --- |
| Nick Spencer Adams | Dentist, Wellington |
| Thomas Addison | Dentist, Birmingham |
| Olurotimi Adesanya | Dentist, Gillingham |
| Kelvin Ian Afrashtehfar | Dentist, Surrey, British Columbia |
| Vishal Raghubir Kumar Aggarwal | Dentist, Leeds |
| Anirudha Agnihotry | Dentist, Visalia, California |
| Asrar Ahmed | Dentist, Eastbourne |
| Nadeem Tony Ahmed | Dentist, Hednesford |
| Ali Al Bayati | Dentist, Baghdad |
| Nutalya bint Said bin Amran al Harthy | Dentist, Muscat |
| Mohamed Al Ismaili | Dentist, Muscat |
| Abdulghani Mustafa Sadiq Alarabi | Dentist, Muscat |
| Jennifer Albiston | Dentist, Yeovil |
| Simon Albiston | Dentist, Wincanton |
| Ziad Nawaf Al-Dwairi | Dentist, Irbid |
| Rana Khaled Alkattan | Dentist, Riyadh |
| Maher Almasri | Dentist, Birmingham |
| Amin Aminian | Dentist, Stockport |
| Harinder Rattan Singh Amrik | Dentist, Birmingham |
| John Quentin Anderson | Dentist, Hemel Hempstead |
| Orestis Angeletos-Paparizos | Dentist, London |
| Senathirajah Ariyaratnam | Dentist, Altrincham |
| Rahul Kumar Arora | Dentist, Muscat |
| Peter Ash | Dentist, Monmouth |
| Martin Peter Ashley | Dentist, Manchester |
| Tariq Mahmood Ashraf | Dentist, London |
| Jerry Asquith | Dentist, Northwood |
| Hilary Michael Attenborough | Dentist, Warminster |
| Sukhvinder Singh Atthi | Dentist, Birmingham |
| Paul Baines | Dentist, Bristol |
| Avijit Banerjee | Dentist, High Wycombe |
| Subir Banerji | Dentist, London |
| Fadi Nassif Barrak | Dentist, London |
| Jagan Kumar Baskaradoss | Dentist, Kuwait |
| Paul Batchelor | Dentist, Letcombe Regis |
| Robert Stephen Bate | Dentist, Warwick |
| Anthony Bendkowski | Dentist, Sittingbourne |
| Adrian William Bennett | Dentist, Oldham |
| Roy Keith Bennett | Dentist, Heswall |
| Thomas Jack Bereznicki | Dentist, London |
| Balbir Singh Bhandal | Dentist, Warley |
| Sanjeev Bhanderi | Dentist, Cheadle |
| Trevor Joel Bigg | Dentist, Chipping Norton |
| Mohammed Binamin | Dentist, Solihull |
| Rebecca Sarah Louise Binnie | Dentist, Aberdeen |
| Robert Ian Bland | Dentist, Preston |
| Paul David Blaylock | Dentist, Sunderland |
| Philip Bluett | Dentist, Ivybridge |
| Steve Bonsor | Dentist, Aberdeen |
| Daniel Norbert Borge | Dentist, Gibraltar |
| Gerard Boyle | Dentist, Glasgow |
| Gordon Russell Boyle | Dentist, Glasgow |
| Christine Breare | Dentist, Mirfield |
| Zena Brenchley | Dentist, Chulmleigh |
| Janine Amelia Brooks MBE | Dentist, Northampton |
| Richard John Frank Buckle | Dentist, Aberdeen |
| Trevor Burke | Dentist, Birmingham |
| Robert Stephen Burrows | Dentist, St Helens |
| Peter James Butcher | Dentist, Grantham |
| Ashley Rowland Byrne | Clinical Dental Technician, Wheatley |
| Josette Camilleri | Dentist, Birmingham |
| Colin Campbell | Dentist, Nottingham |
| Steven William Campbell | Dental Technician, Ripon |
| Phillip Cannell | Dentist, Rochford |
| Paul Carroll | Dentist, Sutton Coldfield |
| Nigel Lindsay Carter OBE | Dentist, Rugby |
| Francisco Javier Casserley | Dentist, Middleton |
| Wing Kit Paul Chan | Dentist, Hong Kong |
| Yee Chuen Chan | Dentist, Hong Kong |
| Andrew Asir Praveen Chandrapal | Dentist, Bourne End |
| Asif Hassan Chatoo | Dentist, London |
| Mahesh Max Chauhan | Dentist, London |
| Masud Anwar Choudhry | Dentist, Sheffield |
| Janet Ruth Clarke MBE | Dentist, Worcester |
| Matthew Clarke | Dentist, Sheffield |
| Simon Clavell-Bate | Dentist, Clitheroe |
| Matthew John Clover | Dentist, Salisbury |
| Matthew John Collins | Dentist, Wetherby |
| Paul Cooney | Dentist, Hamilton |
| Jeremy Andrew Cooper | Dentist, Manchester |
| Jonathan George Cowpe | Dentist, Dinas Powys |
| Robert Francis Aubrey Craig | Dentist, Glasgow |
| Charles Edward Crawford | Dentist, Manchester |
| David Croser | Dentist, London |
| Richard John Cure | Dentist, Leamington Spa |
| Lisa Currie | Dentist, Aberdeen |
| William Paul Cushley | Dentist, Airdrie |
| Mohamad Hani Nouri Dalati | Dentist, Middlesbrough |
| Griffith John Kineton Darby | Dentist, Beckenham |
| Brian Richard Davies | Dentist, Reading |
| John Louis Garfield Davies | Dentist, Tauranga, New Zealand |
| Stephen John Davies | Dentist, Stockport |
| Andrew Dawood | Dentist, London |
| Gustinna Wadu De Silva | Dentist, Newcastle-under-Lyme |
| Aditi Desai | Dentist, London |
| Faresh Desai | Dentist, Birmingham |
| John Charles Devennie | Dentist, Glasgow |
| Balraj Dhami | Dentist, Sutton Coldfield |
| Onkar Dhanoya | Dentist, Newcastle upon Tyne |
| Jaswinder Singh Dhariwal | Dentist, Slough |
| Michael Karl Dhesi | Dentist, Glasgow |
| Andrew John Dickenson | Dentist, Derby |
| Neeraj Kumar Diddee | Dentist, Durham |
| Kenneth Doig | Dentist, Boston |
| Mark Robert William Doyle | Dentist, Hereford |
| Tariq Drabu | Dentist, Manchester |
| Mervyn Druian | Dentist, London |
| Ian Neil Dunn | Dentist, Liverpool |
| Stephen Michael Dunne | Dentist, London |
| Jonathan Eaton | Dentist, Knutsford |
| Andrew Howard Eric Eder | Dentist, Middlesex |
| Bilal El-Dhuwaib | Dentist, Sheffield |
| Stuart McDonald Ellis | Dentist, Cambridge |
| Jacqui Ruth Elsden | Dental Nurse, Southwater |
| Rachael Ann England | Dental Hygienist, Geneva |
| Ekaterina Fabrikant | Dentist, London |
| Jonathan Charles Farmer | Dentist, Market Rasen |
| Shelagh Farrell | Dentist, Edenbridge |
| Zbigniew Fedorowicz | Dentist, Huntingdon |
| Susan Claire Fenton | Dentist, Winchester |
| Carl Stafford Fenwick | Clinical Dental Technician, Newcastle upon Tyne |
| Koray Feran | Dentist, London |
| Simon Fieldhouse | Dentist, Bradford-on-Avon |
| Timothy James Foster | Dentist, Malton |
| Thomas Edward Foulger | Dentist, Broadstone |
| Peter Michael Frost BEM | Dentist, London |
| Alexandra Mary Furness | Dentist, Hoylake |
| Richard Furness | Dentist, Hoylake |
| Sir Ian Derek Gainsford | Dentist, Jerusalem |
| Kuldip Singh Gakhal | Dentist, Wolverhampton |
| John Anthony Gamon CBE | Dentist, Aylesbury |
| Allen Felix Saadiah Gaon | Dentist, Edgware |
| Victor Tikam Gehani | Dentist, Stanmore |
| Stanley Gelbier | Dentist, Finchley |
| Elizabeth Wallace Glass | Dentist, Glasgow |
| Nicola Zeeba Gore | Dentist, London |
| Michael Alan Gow | Dentist, Glasgow |
| Linda Helene Greenwall | Dentist, London |
| Alexander Michael Greig | Dentist, Tetbury |
| Daniel Gunaseelan | Dentist, Stanmore |
| Harish Gupta | Dentist, Birmingham |
| Hridesh Kumar Gupta | Dentist, Mirfield |
| Andrew Hadden | Dentist, Milton of Campsie |
| James Patrick Hamilton | Dentist, Naas |
| Sean Hamilton | Dentist, Yelverton |
| Sally Jane Hanks | Dentist, Tavistock |
| Raghunathan Hari | Dentist, Tunbridge Wells |
| Amy Louise Harper | Dentist, Kirkcaldy |
| Kenneth Andrew Harper | Dentist, London |
| Kenneth Joseph Harris | Dentist, Sunderland |
| Esmail Fakirmohamad Harunani | Dentist, Sidcup |
| Bryan David Harvey | Dentist, Brentwood |
| Dominic Carmel Hassall | Dentist, Solihull |
| Haidar Hassan | Dentist, London |
| Sherin Abdulmohamed Hassanally | Dentist, Surbiton |
| Keith Edward Hayes | Dentist, Tunbridge Wells |
| Audoen Healy | Dentist, High Wycombe |
| Deborah Hemington | Dental Therapist, Bromley |
| Edward Paul Thomas Hems | Dentist, Henley-on-Thames |
| Noel Henderson | Dentist, Roscommon |
| Robert Hensher | Dentist, Dorset |
| Mark Andrew Hill | Dentist, Cardiff |
| Oliver Lee Hinton | Dentist, Knutsford |
| Christopher John Hird | Dentist, Wetherby |
| Christopher CK Ho | Dentist, Chatswood, New South Wales |
| Ross Hobson | Dentist, Morpeth |
| Alexander Holden | Dentist, Crows Nest, New South Wales |
| Victoria Holden | Dentist, Newbury |
| Michael Anthony Horton | Dentist, Woore |
| Mark-Steven Howe | Dentist, Sedgeberrow |
| Ryan Keir Hughes | Dentist, Wells |
| Ian Richard Hunt | Dentist, Altrincham |
| Abid Hussain | Dentist, Solihull |
| Faris Hazim Hussain | Dentist, Beckenham |
| Mohammed Ibrahim | Dentist, Bidar, Karnataka |
| Javed Ikram | Dentist, Thornton-Cleveleys |
| Robert Ireland | Dentist, Warwick |
| Amita Janda | Dentist, Sutton Coldfield |
| Sachin Jauhar | Dentist, Glasgow |
| Andrea Johnson | Dental Technician, Sutton-in-Ashfield |
| Stuart Brooke Johnston | Dentist, Usk |
| Philip Winstone Johnstone | Dentist, London |
| Ian Jones | Dentist, Aberdeen |
| Adrian Mark Jordan | Dentist, Waltham Chase |
| Roy Birander Judge | Dentist, Melbourne |
| Zaki Kanaan | Dentist, London |
| Helen Mary Kaney | Dentist, Hamilton |
| Zoeb Kapadia | Dentist, Leicester |
| Elizabeth Kay | Dentist, Liskeard |
| Jonathan Michael Kennair | Dentist, Bolton |
| Ian Kerr | Dentist, Hawkhurst |
| Pejman Khaki | Dentist, Horsham |
| Khaled Khalaf | Dentist, Aberdeen |
| Salman Ashraf Khan | Dentist, Lahore |
| Fazeela Khan-Osborne | Dentist, London |
| Tashfeen Kholasi | Dentist, Hornchurch |
| Peter Anthony King | Dentist, Wilmslow |
| Eldo Koshy | Dentist, Palarivattom, Kerala |
| David Ross Kramer | Dentist, Twickenham |
| Anthony Stephen Kravitz | Dentist, London |
| Sornakumar Krishnamoorthi | Dentist, Plymouth |
| Jonathan David Lack | Dentist, Edgware |
| Ravinder Lall | Dentist, Northampton |
| Nicholas Andrew Lane | Dentist, Bradford |
| David Langham | Dentist, Taunton |
| Herman Kin Man Lee | Dentist, Hong Kong |
| William Wang-Kee Lee | Dentist, Warrington |
| Jason Andrew Leitch CBE | Dentist, Glasgow |
| Gillian M Lennox | Dentist, Glasgow |
| Sharon Patricia Letters | Dentist, Glasgow |
| Yin Hon Alexander Leung | Dentist, Hong Kong |
| Kevin James Lewis | Dentist, Stamford |
| Nicholas Lewis | Dentist, Yateley |
| Jonathan Liew | Dentist, Liverpool |
| Elisavet Liontou | Dentist, Aberdeen |
| Michael Victor Lloyd | Dentist, Chalford |
| Chris Louca | Dentist, Orpington |
| Christopher Daniel Lynch | Dentist, Killorgin |
| Naveed Maan | Dentist, Colchester |
| Louis Murray Mackenzie | Dentist, Birmingham |
| Fiona Janet Mackillop | Dentist, London |
| Derek John Maguire | Dentist, Dungannon |
| Leonard John Maguire | Dentist, Dungannon |
| Derek Roy Mahony | Dentist, Haberfield, New South Wales |
| Yann Georges Maidment | Dentist, Edinburgh |
| John Lawrence Makin | Dentist, London |
| Natashekara Mallesh | Dentist, Doha |
| Rachappa Mallikarjuna | Dentist, Muscat |
| George Margaritis | Dentist, Totton |
| Peter Martin | Dentist, Liverpool |
| Hew Byrne Mathewson CBE | Dentist, Edinburgh |
| John Bernard Roger Matthews | Dentist, Shanklin |
| Peter Walter Mauthe | Dentist, Gravesend |
| Samuel Mark McAlister | Dentist, Leeds |
| Louis William McArdle | Dentist, Theydon Bois |
| Ewen Mark McColl | Dentist, Kingsbridge |
| Sinead McEnhill | Dentist, Enniskillen |
| John McVeigh | Dentist, Tavistock |
| Shamir Bhupendra Mehta | Dentist, Stanmore |
| Alasdair Gordon Miller | Dentist, Taunton |
| Richard John Millhouse | Dentist, Cambridge |
| Ian James Mills | Dentist, Torrington |
| John Gordon Milne | Dentist, Wakefield |
| Shashi Bhushan Mishra | Dentist, Langford |
| Philip Moo | Dentist, Ashford |
| Thegan Moodley | Dentist, Bromsgrove |
| Kirstie Moons | Dental Nurse, Nantgarw |
| Adrian Nicholas Kenneth Moore | Dentist, Brighton |
| Alyn Morgan | Dentist, Leeds |
| David John Morley | Dentist, Bath |
| Fraser James Morrison | Dentist, Edinburgh |
| Kishalaya Mukherjee | Dentist, Wolverhampton |
| Sukhdeep Murbay | Dentist, Newcastle upon Tyne |
| Triveni Nalawade | Dentist, Muscat |
| Anoupvir Singh Nandra | Dentist, Birmingham |
| Khaja Nawaz | Dentist, Chennai |
| James Alexander Neilson | Clinical Dental Technician, Derby |
| Tan Minh Nguyen | Dental Therapist, Templestowe Lower, Victoria |
| Lucy Nichols | Dentist, Thames Ditton |
| Matthew Nolan | Dentist, London |
| Ette Etim Ntekim | Dentist, Holyhead |
| Sarab Oberai | Dentist, Virginia Water |
| Eimear O'Connell | Dentist, Edinburgh |
| Mark James O'Hara | Dentist, Horsham |
| Dominic O'Hooley | Dentist, Leeds |
| Conor O'Malley | Dentist, Hamilton |
| Peter Ommer | Dentist, Glasgow |
| Graham Orr | Dentist, Morpeth |
| Christine Osborne | Dentist, West Byfleet |
| Mary Colette O'Sullivan | Dentist, Ashford |
| Abhijit Pal | Dentist, Birmingham |
| Marie Ruby Parker | Dental Nurse, Stanford-le-Hope |
| Hussein Saifuddin Patanwala | Dentist, Birmingham |
| Divyash Patel | Dentist, London |
| Kishan Patel | Dentist, Pinner |
| Pankaj Patel OGW | Dentist, Uxbridge |
| Raseshkumar Shantilal Patel | Dentist, London |
| Tushar Chandulal Patel | Dentist, Chelmsford |
| Kaushik Paul | Dentist, Birmingham |
| Chris Penlington | Dentist, Newcastle upon Tyne |
| Keith Percival | Dentist, Fareham |
| Noel John Perkins | Dentist, Kirkby Lonsdale |
| Polyxeni Petropoulou | Dentist, Muscat |
| Ralph Pickup | Dentist, Waddington |
| Allan Vernon Pirie | Dentist, Glasgow |
| Manish Prasad | Dentist, Birmingham |
| Barry Francis Arthur Quinn | Dentist, London |
| Sudha Rajmohan | Dentist, Muscat |
| Raj Rattan MBE | Dentist, Hemel Hempstead |
| Deborah Reed | Dental Nurse, Swadlincote |
| Elliot Rhodes | Dentist, Newport |
| Robin John Richardson | Dentist, Sutton Coldfield |
| Marcello Riggio | Dental academic, Glasgow |
| Christopher Roberts | Dentist, Truro |
| George Rodgers | Dentist, Wigan |
| Iain Roe | Dentist, Halesowen |
| Samuel Russell Rollings | Dentist, Aberdeen |
| Catherine Margaret Rutland | Dentist, Kings Worthy |
| Zubair Sacranie | Dentist, Solihull |
| Peter John Arthur Sanders | Dentist, Winchester |
| Peter Sands | Dentist, Abingdon |
| Ario Santini | Dentist, Edinburgh |
| Julian David Satterthwaite | Dentist, Manchester |
| Amir Savage | Dentist, Alton |
| George Christou Savva | Dentist, Derby |
| Eddie Leonard Caspar Scher | Dentist, London |
| Julian Philip Scott | Dentist, Eastbourne |
| Andrew See | Dentist, Hunters Hill, New South Wales |
| Noha Mohamed Said Abdelaziz Seoudi | Dentist, London |
| Kevin Guy Seymour | Dentist, Baldock |
| Nileshkumar Ratilal Shah | Dentist, Loughborough |
| Arthur See King Sham | Dentist, Hong Kong |
| Shaam Ahmed Shamsi | Dentist, Biddulph |
| Pranay Sharma | Dentist, Ilford |
| Pratik Kumar Sharma | Dentist, Ilford |
| William Sharpling | Clinical Dental Technician, Woking |
| Naresh Yedthare Yedthate Shetty | Dentist, Ajman, United Arab Emirates |
| Penelope Jane Shirlaw | Dentist, London |
| Yejide Olufunmilayo Sijuwade | Dentist, Bury St Edmunds |
| Deepak Simkhada | Dental Therapist, Sunbury on Thames |
| Gurdeep Singh | Dentist, Muscat |
| Ashis Colin Sinha | Dentist, Solihull |
| Hin Ho Siu | Dentist, Hong Kong |
| Charles Adam Edward Slade | Dentist, London |
| Oliver Smart | Dentist, Birmingham |
| Nikolai Ramsay Stankiewicz | Dentist, Somerton |
| Rhona Stevens | Dentist, Bingley |
| Graham Douglas Stokes | Dentist, Malvern |
| Finlay Andrew Sutton | Dentist, Lancaster |
| Vincent Syme | Dentist, Taunton |
| Susan Rebecca Rose Tanner | Dentist, London |
| Millicent Rowena Taylor | Dentist, Embleton, Western Australia |
| Michael Frederick Thomas | Dentist, Gosport |
| Wendy Thompson | Dentist, Kirkby Lonsdale |
| Patricia Anne Thomson | Dentist, Glasgow |
| Robert McNeill Thomson | Dentist, Glasgow |
| Peter Howard Thornley | Dentist, Sutton Coldfield |
| Adrian Thorp | Dentist, Cadole |
| Akinwale Adebisi Tikare | Dentist, Gravesend |
| Paul Anthony Tipton | Dentist, Altrincham |
| Robert Stanley Tobin | Dentist, Birmingham |
| Andrew Charles Toy | Dentist, West Bridgford |
| Christopher Tredwin | Dentist, Yelverton |
| Michael John Trenouth | Dentist, Grange-over-Sands |
| Jonathan Ramsey Turnbull | Dentist, Edinburgh |
| Christopher Turner | Dentist, Bath |
| Elizabeth Tyler | Dentist, Lichfield |
| Tevfik Cemal Ucer | Dentist, Salford |
| Jinesh Jagdish Vaghela | Dentist, South Mimms |
| Alison Drina van den Berg | Dentist, Bristol |
| Manjul Karsandas Vasant | Dentist, London |
| Rajesh Mohankumar Wadhwani | Dentist, Cambridge |
| Pamela Ward | Dentist, Nottingham |
| Faraza Wasti | Dentist, Sale |
| Stephen John Waters | Dentist, Longhope |
| Michael Watson | Dentist, Manningtree |
| Indika Danuka Weerapperuma | Dentist, High Wycombe |
| Brian Westbury | Dentist, Loughton |
| John Wibberley | Clinical Dental Technician, Kincardine |
| Peter Michael Wilkins | Dentist, Warwick |
| Thomas James Spencer Willan | Dentist, Horbury |
| Francis Brian Brian Williams | Dentist, Leatherhead |
| Peter James Willy | Dentist, Bournemouth |
| Michael Wilson | Dentist, London |
| Sir Nairn Wilson CBE | Dentist, Alderley Edge |
| Neil Andrew Wilson | Dentist, Solihull |
| James Wise | Dentist, Teddington |
| Robert Witton | Dentist, Plymouth |
| Jason Wong | Dentist, Grantham |
| Ian David Wood | Dentist, Sale |
| Jeremy Andrew Woodcock | Dentist, Chesham |
| Mark Stuart Wright | Dentist, Godalming |
| Riaz Yar | Dentist, Altrincham |
| Albert Yeung | Dentist, Glasgow |
| Nadeem Younis | Dentist, Burnley |
| Patrik Magnus Zachrisson | Dentist, Huntingdon |
| Hassan Mahmoud Abdelrahman Ziada | Dentist, Las Vegas |
Please note the above list excludes any Fellows who have opted out of inclusion in the College's Member Register
To join the College or upgrade your existing membership, visit our Membership pages