A new process has been announced for the consideration of postgraduate qualifications awarded outside the UK in helping determine eligibility for Full Membership, Associate Fellowship and Fellowship of the College.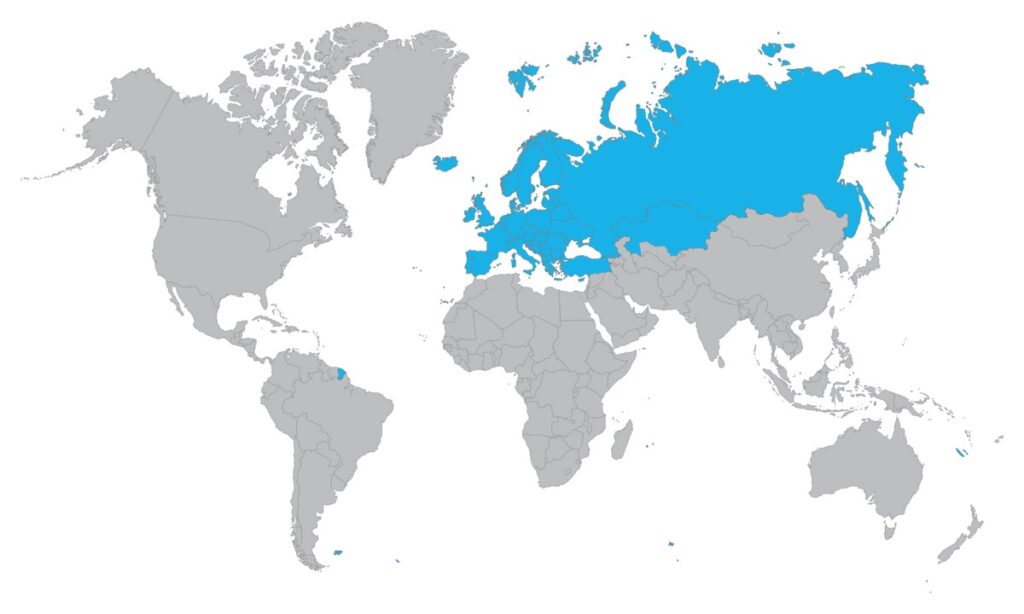 Map highlighting member states of the European Higher Education Area
To date, equivalence for qualifications awarded outside the UK has been determined on a case-by-case basis, with the requirements of each award submitted in support of applications examined individually. However, with an increasing number of applications from dental professionals around the world, a more straightforward and transparent process has now been developed.
In line with the principles of the Lisbon Recognition Convention and Bologna Process, relevant postgraduate awards from recognised Higher Education institutions in the European Higher Education Area (EHEA) will now be accepted by default.
However, those submitting postgraduate qualifications awarded by an institution outside of the EHEA will be asked to provide a Statement of Comparability, which can be obtained from the UK National Information Centre for the recognition and evaluation of international qualifications and skills (UK ENIC, formerly UK NARIC) for a small fee.
The EHEA sits apart from the European Union but includes all current EU member states as well as Albania, Andorra, Armenia, Azerbaijan, Belarus, Bosnia & Herzegovina, Georgia, Iceland, Kazakhstan, Liechtenstein, Moldova, Montenegro, North Macedonia, Norway, Russia, Serbia, San Marino, Switzerland, Turkey, Ukraine and the UK, almost 50 countries in all.
College membership marks a dental professional's commitment to professional development and career progression, and the College accepts all qualified and licensed dental professionals around the world into Associate Membership.
Postgraduate qualifications are required to enter into substantive membership grades, and the College encourages members to upgrade their membership where eligible to reflect their professional standing.
Unless they hold the MJDF, MFDS, MFGDP(UK) or DGDP, applicants for Full Membership require a relevant and accredited Level 7[1] Postgraduate Certificate providing 60 UK credits or an international equivalent[2].
Holders of the MGDS, DPDS, a Specialty Membership of a UK Faculty or one of certain CGDent/FGDP(UK)/RCS Edinburgh-issued diplomas are automatically eligible for Associate Fellowship, however applicants otherwise require a relevant and accredited Level 7 Postgraduate Diploma providing 120 UK credits, or a Master's-level qualification providing 180 credits, or a Doctorate.
Most suitable and relevant Postgraduate Diplomas, Master's degrees and Doctorates are also likely to satisfy one or more of the domains of the 'by experience' route to Fellowship, and one or two specific Postgraduate Certificates also contribute.
However, anyone holding the FFGDP(UK), FDS, FFD, FRACDS, FRCDC, FCD(SA), Board Certification from the American Board of General Dentistry, or who holds FCGDent(Hon.) or FFGDP(UK)(Hon.) and meets the standard requirements for admission, is automatically eligible for Fellowship by means of equivalence and need not apply by the 'experience' route.
Members who practise wholly overseas and are not registered with the UK's General Dental Council pay a concessionary membership fee.
Full details of eligibility for each type of membership are available here. To upgrade, click the button below to select the membership you wish to apply for and to provide evidence of your relevant qualifications and experience.
---
[1] Level 7 as defined in England, Wales and Northern Ireland, equivalent to Level 11 in Scotland
[2] 60 UK credits is the equivalent to 30 ECTS or 15 US credits