The new edition of the Primary Dental Journal, The General Issue – part 1, is now online.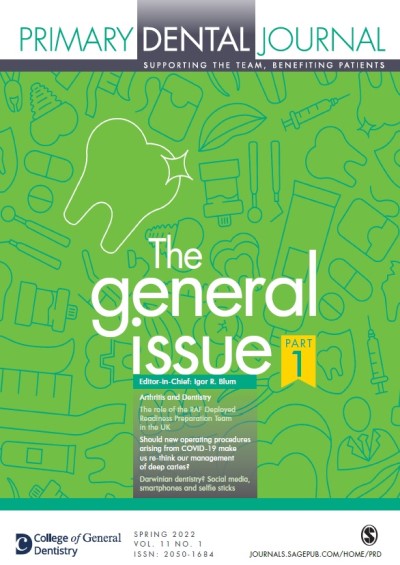 In contrast to themed editions of Primary Dental Journal that focus on one specific topic of interest to the primary dental care team, the General Issue features articles on a diverse range of pertinent and relevant subjects to readers. Due to the number of high quality papers submitted this year, we have split the issue into two editions, with Part 2 of the General Issue published in Summer 2022.
The General Issue Part 1 includes articles on the interrelationship between arthritis and oral and dental health, insights into the RAF Deployed Readiness Preparation Team in the UK, the impact of COVID-19 on our understanding of the management of deep caries, and how social media and smartphone tech can empower patients to take control of their own oral health. A full list of papers is below.
CGDent members and PDJ subscribers can access the new issue by visiting: https://cgdent.uk/primary-dental-journal-archive (Members will need to be logged into the CGDent website).
General Issue Part 1 papers:
Transformation of preclinical education with a digital platform using progressive learning modules on denture teeth arrangement by Ilser Turkyilmaz, Gregory Neil Wilkins, William Friere Skiba
Arthritis and dentistry by Rozana Valiji Bharmal, Matthew Chia
Debonding of cast metal-based cantilever and fixed-fixed resin-retained bridgework: A review of the literature by Katharine Dunn, Marcio Alejandro Umanzor Funez, Adrian Pace-Balzan
Retrospective audit of midazolam dose and intravenous sedation record keeping in a primary care oral surgery service by Jonathan Liew, Michael Winston
The role of the Royal Air Force Deployed Readiness Preparation Team in the UK by Penelope Green
Oral cancer diagnosis amid COVID-19 pandemic: Identifying tell-tale signs to avoid pitfalls in general dental practice by Neda Jajeh, Jonathan Liew, Sajid Sainuddin, Helen Petersen
Should new operating procedures arising from COVID-19 make us re-think our management of deep caries? by Luciana Melo, Igor R. Blum, Richard M. Foxton
Darwinian Dentistry? Social media, smartphones and selfie sticks by Roshni Ruparelia, Martin G.D. Kelleher, Lakhandeep S. Dhanda
As well as the current issue of Primary Dental Journal, CGDent members have free access to the PDJ archive, a rich resource containing over 1,300 informative articles on topics of ongoing relevance to general dental care.
Featuring clinical articles, editorials and updates from the College, the Primary Dental Journal is widely recognised as a leading resource for GDPs and DCPs working in primary care. CGDent membership includes free access to the PDJ, both online and in print – find out more about becoming a member.
CGDent members and PDJ subscribers should expect their printed copies to arrive in the next 2-3 weeks.