Monday 5 July 2021, 7pm
This interactive webinar will discuss the new Mental Health Wellness in Dentistry initiative, and how to act in a timely, appropriate, and safe manner when identifying mental health wellness issues in the dental workplace. It will also highlight the findings of a paper on mental health that will be published in an upcoming issue of the College of General Dentistry's Primary Dental Journal.
This is the first event under the new partnership announced between the College of General Dentistry (CGDent) and ProDental CPD, and is being held in collaboration with the Dental Professional Alliance.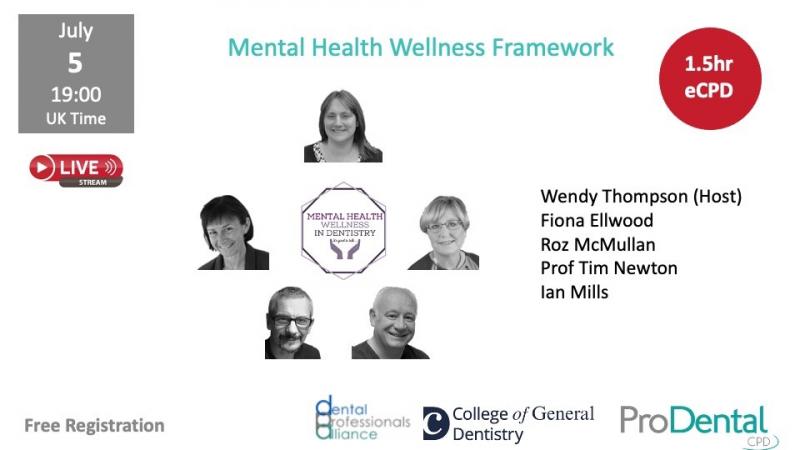 Chair:
Dr Wendy Thompson MCGDent, College of General Dentistry Ambassador
Speakers:
Fiona Ellwood BEM FFGDP(UK) (Hon.), Chair, Dental Professional Alliance, trained Mental Health First Aider
Roz McMullan, Chair, Probing Stress in Dentistry in Northern Ireland
Ian Mills FCGDent, Trustee of the College of General Dentistry
Prof Tim Newton, Professor of Psychology as Applied to Dentistry, King's College London
It will be free to view live for all members of the dental professions. CGDent members and ProDental subscribers can claim 1.5 hours' CPD for free and have access to the recording after the event. A £20 fee will apply for non-members/non-subscribers who wish to claim CPD.
To register for the event, please visit https://us02web.zoom.us/webinar/register/8416243527347/WN_NhnSm8AhR_emg2…
Membership of the College of General Dentistry opens to all registered dental professionals on 1 July. Membership for dentists is available from £94, and for other registered dental professionals from £33. The full list of CGDent membership rates is at https://cgdent.uk/membership-fees/. To register your interest in joining CGDent, visit https://cgdent.uk/join-or-upgrade/ and CGDent will send you application details.