The College of General Dentistry has endorsed the newly-published fourth edition of Delivering Better Oral Health: an evidence based toolkit for prevention.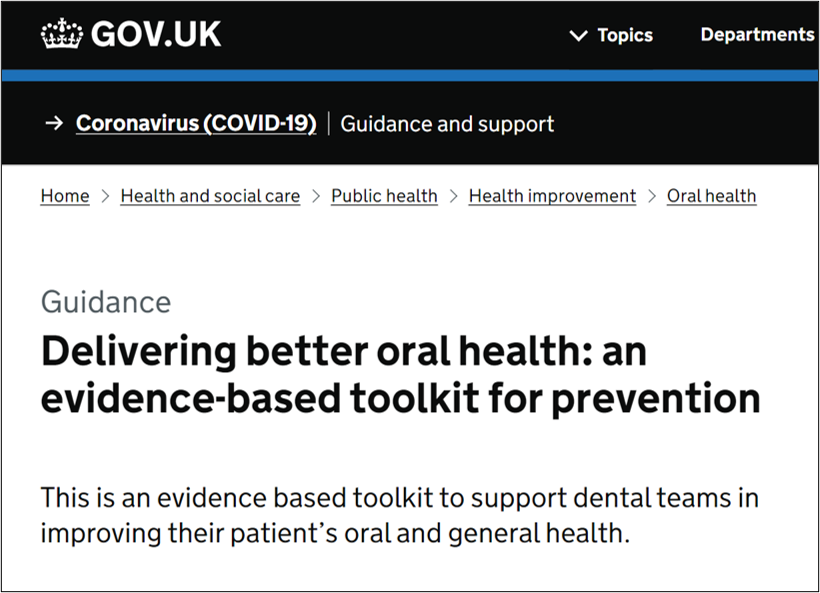 With chapters covering behaviour change, dental caries, periodontal diseases, oral cancer, tooth wear, oral hygiene, fluoride, healthier eating, alcohol, smoking and tobacco use, the revised document gives dental teams access to the best evidence of what works for oral health improvement, all in one place, to help them provide high quality preventative care and advice to patients.
The summary guidance tables remain an invaluable resource for general dental professionals, and new content has been added on infant feeding and early detection of oral cancer, further detail given on tobacco cessation and alcohol reduction, and a new table included which focusses on accelerated tooth wear.
The fourth edition also offers case studies in supporting behaviour change, as well as greater consideration of the oral health of older people and other vulnerable groups, and a new digital format provides better accessibility on mobile devices.
Issued jointly by Public Health England and the Departments of Health in England, Wales and Northern Ireland, it is the result of a comprehensive review of published evidence on prevention involving over 100 experts, among them frontline dental teams and patient representatives.
Ian Mills FCGDent, College Ambassador and past Dean of the Faculty of General Dental Practice, was among those overseeing its development, and Yann Maidment MCGDent, Council Member and College Research Lead, is on the Delivering Better Oral Health Implementation Group.
The document is available at https://www.gov.uk/government/publications/delivering-better-oral-health-an-evidence-based-toolkit-for-prevention