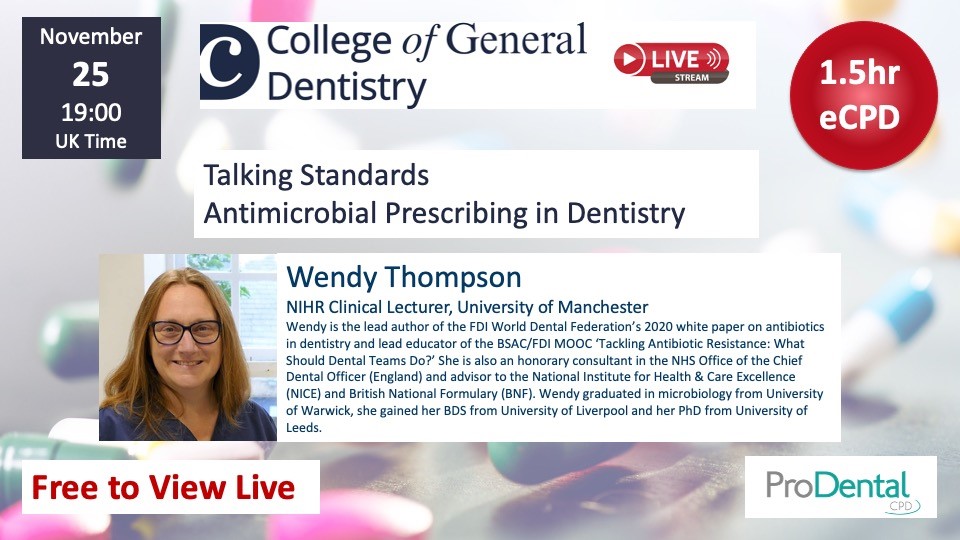 Recorded webinar. Thursday 25 November 2021.
In the first of our Talking Standards webinar series, which sets out to examine areas covered by our evidence-based standards and guidance, we shone the spotlight on global efforts to tackle antimicrobial resistance locally.
We explore the ways in which dental teams can help keep patients safe from untreatable infections, consider why dental practitioners might overprescribe antibiotics and discuss the impact of COVID-19, referring to the Antimicrobial Prescribing in Dentistry Good Practice Guidelines.
Speakers:
Dr Wendy Thompson, general dental practitioner and academic
Vanessa Carter, ePatient and hcsm Consultant
CGDent members and ProDental subscribers can claim CPD hours for free and have access to the recording after the event. A £20 fee will apply for non-members/non-subscribers who wish to claim CPD.
This webinar is part of the new partnership between the College of General Dentistry (CGDent) and ProDental CPD.
Membership of the College of General Dentistry is open to all registered dental professionals. Membership for dentists is available from £94, and for other registered dental professionals from £33. The full list of CGDent membership rates is at https://cgdent.uk/membership-fees/.