The College formally presented over 35 individuals with their Fellowship at the first CGDent Fellows' Winter Reception, which took place on 18 January at the Whitworth Art Gallery in Manchester.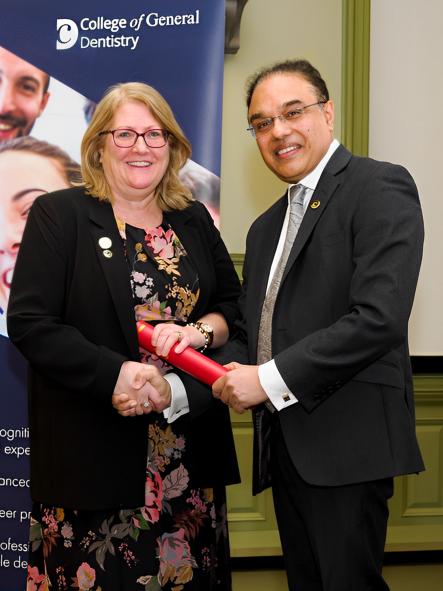 College Fellowship, which is denoted by the postnominal letters 'FCGDent', is the mark of accomplishment in general dentistry, indicating a dental professional's commitment to professional development and reflective practice, diligence in upholding the highest standards of clinical care, and distinction across clinical and professional domains.
The primary means of application to fellowship is by experience, a route launched last year to recognise a wide range of skills, knowledge, experience and qualifications relevant to dentistry and oral healthcare, offering has transparent criteria and a straightforward application process. Fellowship is open to all members of the dental team should they meet the detailed criteria, however a minimum of ten years' registered practice is required for an application to be considered. Applicants do not need to be an existing member of the College, and all suitably experienced dental professionals are encouraged to apply.
Alternatively, Fellowship is available by equivalence to those already awarded Fellowship by the former FGDP(UK) or by any of the UK and Ireland Royal Colleges or their Faculties of Dental Surgery (FDS) or Dentistry (FFD), by the Royal Australasian College of Dental Surgeons or the American Academy of Implant Dentistry. Applications based on fellowship of other institutions may be successful if equivalence is established by the College's Membership Assessment Panel.
The College Council can also award Fellowship where an individual has actively supported the College (and/or former FGDP) and its mission, and whose practice and career is deemed to meet the required standards. Honorary Fellowship can also be bestowed by the Council on those who have made an exceptional contribution to the profession, and entitles recipients to use the post-nominal designation 'FCGDent(Hon)'.
The Fellowship presentations in Manchester were made in front of an audience of almost 100 Fellows and Associate Fellows of the College, members from the North West region and those enrolled in the College's Certified Membership programme.
Those successfully applying for Fellowship over the coming weeks will have the opportunity to have their Fellowship conferred at the Fellows' Summer Reception in London in June 2023.
A full list of those awarded Fellowship of the College since its launch will be published in due course.