The College of General Dentistry (CGDent) has announced the results of recent elections to its Council, with two new members elected, and five re-elected.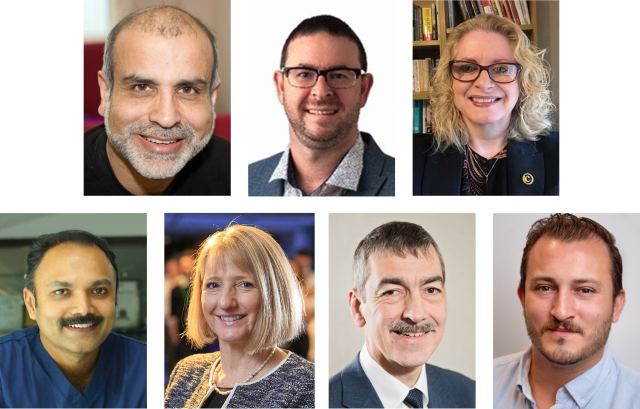 (l-r, top row first) New CGDent Council Members-Elect Subir Banerji and Sagi Shavit, and re-elected Council Members Helen Kaney, Eldo Koshy, Patricia Thomson, Yann Maidment and Sami Stagnell
Subir Banerji FCGDent has been elected to the Central London seat, succeeding Reena Wadia, who served as a member of the National Board of the former Faculty of General Dental Practice UK (FGDP) from 2016-21.
Dr Banerji works as a general dental practitioner in the same private dental practice in Ealing which he joined after graduating from Newcastle Dental School in 1987. He is particularly interested in restorative, aesthetic, prosthodontic and implant dentistry, and has over 20 years' experience of teaching undergraduate and postgraduate dentists both nationally and internationally. Also involved in dental research, he has published articles in numerous international peer-reviewed journals, and is the co-author of books including Practical Procedures in the Management of Tooth Wear and Practical Procedures in Aesthetic Dentistry.
He has both an MClinDent (Prosthodontics) and a PhD from King's College London, where he is the Programme Director of the highly regarded MSc in Aesthetic Dentistry as well as a PhD supervisor. He is an Associate Professor in Prosthodontics at Melbourne Dental School, an advisor to the General Dental Council, on the editorial board of the Academy of Dental Excellence, director of his own postgraduate educational academy, and Head of Continuing Medical Education at i2i Telesolutions Pvt Ltd.
Sagi Shavit MCGDent has been elected to the Yorkshire and Northern seat previously held by Onkar Dhanoya FCGDent – Chair of the College's Equality, Diversity and Inclusion Programme Board and its Professional Affairs Committee, and a former Senior Vice Dean of the FGDP – who has stepped down after eight years' service as an elected representative of the two organisations.
Dr Shavit was born in Israel and was a Captain in the Israel Defense Forces before studying to be a dentist, graduating DMD in Romania in 2009. He soon developed a special interest in endodontics, and after moving to the UK undertook a number of training courses, including microsurgical endodontics, gaining an MSc in Endodontics from the University of Chester in 2015.
Working in a mixed NHS-and-private practice in Darlington, since 2016 he has limited his practice to endodontics, accepting difficult endodontic referrals. He also developed a technique to apply hydraulic cements into perforations and wide canals using his patented Shavit Pellet Former, a push-through mechanism that creates pellets of endodontic cement of predetermined diameters and lengths.
In 2017 he was awarded the MFGDP(UK), and the following year he completed a Postgraduate Diploma in Dental Implantology at the City of London Dental School, where he is now a tutor in endodontics. He is also a visiting lecturer at Tipton Training, runs day courses on endodontics in the North East, and has completed an accredited sedation course and begun providing treatment to anxious patients under intravenous sedation.
Helen Kaney FCGDent, Eldo Koshy FCGDent, Patricia Thomson AssocFCGDent, Yann Maidment MCGDent and Sami Stagnell AssocFCGDent have been re-elected to represent, respectively, the National, Overseas, West & North Scotland, East of Scotland and Wessex & Oxford seats.
Dr Kaney is Head of Dental Services in Scotland for Dental Protection, a dually qualified dentist and solicitor, and Vice-Chair of the College's Professional Affairs Committee. As well as practising general dentistry for many years, she has worked as a clinical assistant in restorative dentistry, a Senior Dento-Legal Adviser and a solicitor acting for dentists and doctors. A Fellow of both the College of General Dentistry and of the Faculty of Forensic & Legal Medicine of the Royal College of Physicians, she holds an MBA and is a founding member of the Dental Law and Ethics Forum.
Dr Koshy is a prosthodontist and implant dentist in Kerala, India. Previously Vice-Principal and Head of the Department of Prosthodontics and Implantology at KMCT Dental College, Kozhikode, he has lectured and delivered training across India, Sri Lanka and the United Arab Emirates, and is a Fellow of the American Academy of Implant Dentistry.
Dr Thomson has worked in general dental practice since 1983, became a principal in 1985, sold her practice in 2017, and now works as a part-time associate. She has provided mixed NHS and private care, and has an interest in orthodontics. She has tutored colleagues for entry exams for the Royal Colleges, presented teaching sessions on orthodontics to vocational trainees, and delivers postgraduate lectures at RCPS Glasgow. She served on the FGDP(UK) National Board from 2016-2021, and is currently Chair of the College of General Dentistry's Regional Funding Panel. She has also served as President of the West of Scotland branch of the BDA, and is a Fellow of the International College of Dentists.
Dr Maidment qualified from Edinburgh in 1984, becoming a partner in his dental practice in the city in 1987, and then associate in 2019. In 2002, he was awarded a DDS for his research comparing the effectiveness of different modes of CPD. He has held research assistant posts at the University of Edinburgh, served on BDA committees for 11 years and lectured on the use of acupuncture in dentistry. He is a past President of the Royal Odonto-Chirurgical Society of Scotland, and has represented the East of Scotland on the FGDP(UK) National Board, and now the College Council, since 2016. He is the College's Research Lead and a member of its Professional Affairs Committee.
Dr Stagnell graduated in 2009 and is now a specialist oral surgeon, running a referrals practice in Bournemouth supporting both NHS and private patients. In 2015 he was awarded a merit in his MSc in Aesthetic Dentistry at King's College London, in 2018 he achieved an MSc in Skin Ageing and Aesthetic Medicine at the University of Manchester, and he is completing an MSc in implantology with the University of Madrid. Chair of the College of General Dentistry's Membership Affairs Committee, he is active in the BDA and Royal Society of Medicine, and was one of Health Education England's first Clinical Leadership and Management Fellows. He is also an ITI Implant Scholar and a member of the working group which developed the College's recently-published Mentoring in Implant Dentistry: Good Practice Guidelines.
The College is the independent professional body into which the FGDP transferred last year. The UK's only medical college run by and for oral health professionals, it is unique in welcoming all dental and oral health professionals with relevant postgraduate qualifications into full membership.
The Council is the voice of the College's members, overseeing its role as a professional body and guiding its development to fulfil its mission. Elections are held annually on a rotational basis, with the seats representing Wales, Northern Ireland, and the South East & South West Thames and North East & North West Thames regions due for election in 2023, and South West England, Trent & East Anglia, Mersey & the North West and the West Midlands due in 2024.
Elected Council members serve three-year terms, and are then able to stand for re-election – subject to a lifetime limit of nine years' service on the Council, including any past service on the FGDP(UK) National Board. Those elected this year will be inaugurated at the next Council meeting, which takes place in Cardiff on Friday 24 June 2022.
Abhi Pal FCGDent, President of the College, said:
"Many congratulations to Subir and Sagi on their election to the Council, and to Helen, Eldo, Patricia, Yann and Sami on their re-election. I look forward to drawing on their vast and varied experience, knowledge and expertise as the College continues to fulfil its historic mission.
"I would also like to thank Onkar and Reena for their dedication and service to the College and Faculty, and for their collegiality and advice during my Presidency of the College and Deanship of the Faculty."