The College is marking its second anniversary by offering dental professionals a free print copy of the Primary Dental Journal.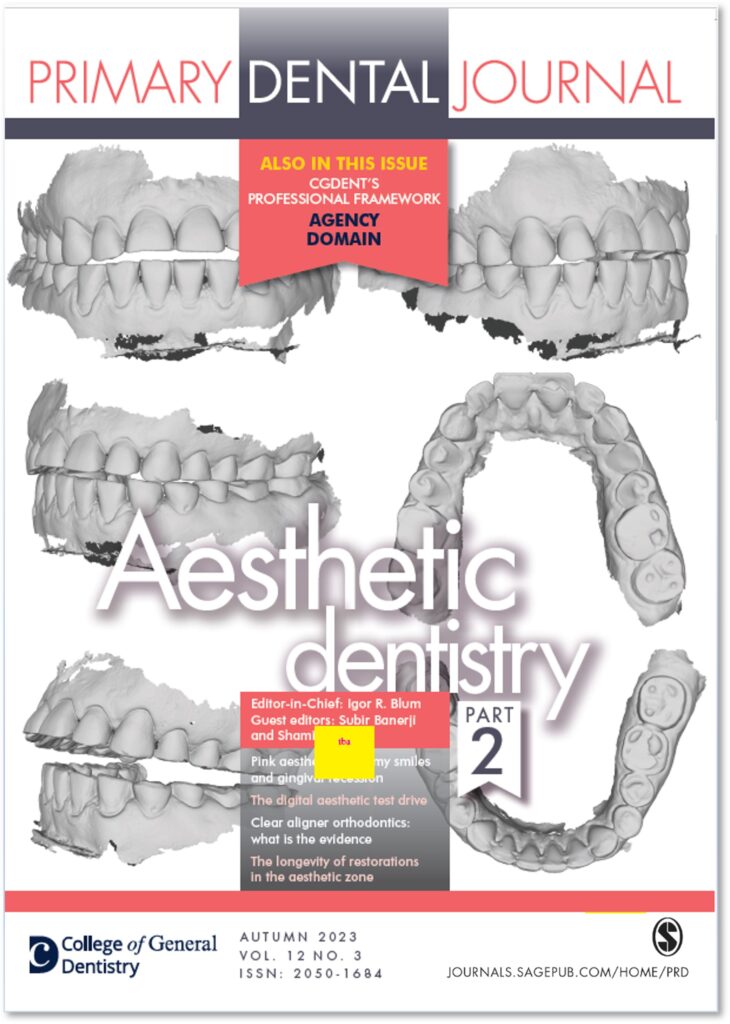 Primary Dental Journal (PDJ) is the College's quarterly, peer-reviewed member publication. Featuring clinical articles, editorials and topical opinion, as well as updates from the College, the PDJ is a leading resource for general dental practitioners and dental care professionals working in primary care, and has as its Clinical Editor and Editor-in-Chief Igor Blum, Clinical Professor of Primary Dental Care & Advanced General Dental Practice at King's College London.
Unique in its dedication to general dental practice, its general issues include a range of papers on a variety of topics of interest and relevance to the primary care dental team, and its themed issues explore subjects in depth and are guest edited by renowned experts in their field. Recent themed issues include Leadership and professionalism, Urgent dental care and COVID-19, Paediatric dentistry, Oral surgery, Digital dentistry and most recently Aesthetic dentistry part 1.
To mark the second anniversary of the College's establishment, it is giving away 100 print copies of the next issue, Aesthetic dentistry part 2.
The issue is guest edited by Professor Shamir Mehta FCGDent and Dr Subir Banerji FCGDent. Professor Mehta is a Professor and Course Lead for the MSc in Restorative Dentistry at the College of Medicine and Dentistry and Ulster University, Senior Clinical Teacher and Director of the MSc in Aesthetic Dentistry at King's College London, and Visiting Professor and PhD supervisor at Radboud University. Dr Banerji is the Programme Director of the MSc in Aesthetic Dentistry and a PhD supervisor at King's College London, co-author of Practical Procedures in the Management of Tooth Wear and Practical Procedures in Aesthetic Dentistry, and an Associate Professor in Prosthodontics at Melbourne Dental School. Professor Mehta and Dr Banerji are also leading the College's upcoming study day on managing tooth wear in general dental practice.
Articles expected to feature in the upcoming issue include:
Adhesion to enamel and dentine: an update
The longevity of tooth-coloured materials used for restoration of tooth wear: an evidence-based approach
A survey of retention and support for anterior bounded saddles of removable partial dentures
Complications of toxins and fillers in facial aesthetics
Aesthetic management of tooth size discrepancies
Aesthetic management of incisors in children
Those wishing to receive a free print copy will need to sign up by Sunday 27 August 2023. Delivery of promotional copies should take place during October 2023, but in the event that the number of individuals participating exceeds the number of copies available, the next available issue may be sent instead.
Following Aesthetic Dentistry Part 2, anticipated issues include Dental trauma, General dentistry and Implant dentistry (tbc), and those wishing to receive these can either subscribe to the PDJ or join the College.
Membership of the College includes a comprehensive print, online and archive subscription which is otherwise available only to academic institutions. As well as having the latest print issue posted out every three months, this gives members searchable access to over 1,400 articles from 95 issues of Primary Dental Journal and its predecessor publications, including all the articles from Aesthetic Dentistry Part 1:
Membership of the College is available from £125 per year for dentists, £83 for dental hygienists, therapists and technicians, and £42 for dental nurses and concessions, and costs £60 for non-clinical team members such as practice managers.
Alternatively, an annual print-only subscription can be purchased for £125, or single print issues from £41, via Sage Publishing.
Click here for further information on the benefits of joining the College of General Dentistry.
Click here for information on subscribing to the PDJ.
Non-members of the College can also keep up to date with its news, events, guidance and offers by subscribing to its free monthly newsletter.
This offer is limited to one per person and is not available to anyone who has previously received a promotional issue of the PDJ.