The College has announced changes to the membership of its Council, with four members newly appointed and two re-elected.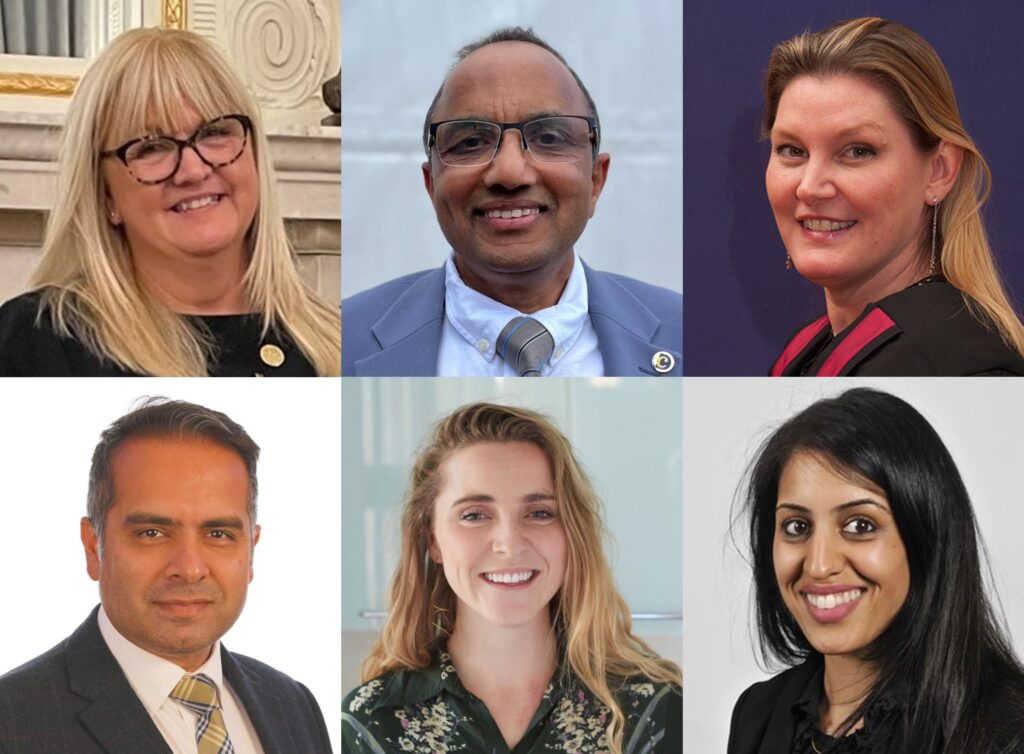 Roshni Karia MCGDent, an associate dentist in general dental practice in London, has been re-elected to represent South East and South West Thames. After developing a special interest in periodontics, she completed an enhanced two-year postgraduate study programme and is now also a clinical tutor in periodontology at King's College London. She qualified from King's College London in 2010, and joined the former Faculty of General Dental Practice (FGDP), the forerunner of the College, in 2012. She was appointed to the FGDP national board as an early careers observer in 2015, was elected to represent her region in 2017, and after re-election in 2020 transferred to the College Council in 2021. She chaired the Faculty's Education & Qualifications and Membership Affairs committees, was elected its youngest ever Vice Dean in 2019 and in 2020 was a contributor to the joint FGDP-CGDent guidance Implications of COVID-19 for the safe management of general dental practice. She has been the College's representative in national policy fora on children's oral health improvement and on periodontics, has served on its Careers and Training Committee and Career Pathways Programme Board, is involved in the rollout of the Certified Membership scheme and served as Vice-President from 2021-22.
Debbie Reed FCGDent, a Reader and Director of Advanced and Specialist Healthcare in Global and Lifelong Learning at the University of Kent, has been appointed to represent the dental nursing and orthodontic therapy professions. A dental nurse for almost forty years, she is a past Executive Chair of the British Association of Dental Nurses. She was Head of the University of Kent's Centre for Professional Practice for eight years, Head of Digital and Lifelong Learning for nine, developed and runs its MSc in Advanced and Specialist Healthcare, and previously had a 23-year career in the Royal Navy. An Affiliate Member of the FGDP from 2008 until its transfer into the College, she was Chair of the Dental Nursing and Orthodontic Therapy Working Group for the Career Pathways Programme which developed the College's Professional Framework for Career Pathways in Dentistry, and was Vice Chair, now Chair, of the inaugural board of the College's Faculty of Dental Nursing and Orthodontic Therapy. She is a peer reviewer for the British Dental Journal and the Annual Clinical Journal For Dental Health, is on the Editorial Board of the Advanced Journal of Professional Practice, and was a contributor to An introduction to clinical research for health and social care professionals. Her qualifications include a Doctorate in Education, an MSc in Human Resources Management, the FGDP(UK) Certificate in Dental Practice Appraisal, and a BA in Post Compulsory Education, and she is a Fellow of the Higher Education Academy and Honorary Vice President of the British Society for Dental Hygiene and Therapy. In 2020 she received the BADN Outstanding Contribution to Dental Nursing Award, and in 2021 she received the inaugural FGDP(UK) Janet Goodwin Award.
Dalip Kumar Assoc.FCGDent, Principal of a mixed NHS-and-private general dental practice in Swansea, has been appointed to represent Wales. After graduating in India in 1994, he practised in Delhi for seven years before spending eight years in Riyadh as a general dentist and dental surgeon in both private and public hospitals. In 2008 he was awarded the Diploma of Membership of the Faculty of Dental Surgery of the Royal College of Physicians and Surgeons of Glasgow, and from 2009-12 he worked on dental implant research and assisted in dental implant placement for Saudi Arabia's government-funded health system. After completing a Postgraduate Certificate in Clinical Dentistry at Cardiff University, he undertook a clinical attachment in oral and maxillofacial surgery at East & North Hertfordshire NHS Trust, and after passing the Overseas Registration Exam in 2017 became a dental core trainee at Mid Essex Hospital. He then spent eighteen months practising in Stornoway, a year working for Bupa in Cardiff and two years for Roderick's Dental in Aberdare and Neath before buying his current practice in 2021. He completed an MSc in Dental Implantology at the University of Salford in 2022 and has also undertaken training on Invisalign Go and in the administration of Botox and dermal fillers. He is a Facilitator for the College's Certified Membership Scheme.
Susan Nelson MCGDent, a lead dentist and implant dentist in private practice in Holywood, County Down, and the Regional Clinical Lead for Portman Healthcare, has been re-elected to represent Northern Ireland. Graduating with Honours in 1993 from the University of Edinburgh, where she won the McGregor Gold Medal for the most distinguished dental graduate, she completed Vocational Training in Fife before joining the practice as an associate in 1994. She joined the FGDP in 1998, examined and sat on the core group for the MFGDP(UK) and MJDF qualifications for 16 years, served as Director of the Faculty's Northern Ireland division, sat on the College's Advisory Strategy Group and was instrumental in the recent establishment of CGDent Northern Ireland. She was first elected to represent the region on the national FGDP board in 2017, was re-elected in 2020 and transferred to the College Council in 2021. She chaired the FGDP Education and Qualifications Committee, served as Vice Dean of the Faculty from 2020-21 and Vice-Chair of the College's Careers and Training Committee from 2021-22, and is a member of the College's Regional Funding Panel. She was a member of the working group which developed the College's Mentoring in Implant Dentistry: Good Practice Guidelines publication, and a contributor to the joint FGDP-CGDent guidance Implications of COVID-19 for the safe management of general dental practice. She is a member and former Deputy Chair of the Northern Ireland Dental Practice Committee, and former Northern Ireland Representative of the Association of Dental Implantology.
Victor Gehani FCGDent, a general dental practitioner and implant dentist in Hertfordshire, Associate Professor in Advanced General Dental Practice at the College of Medicine and Dentistry and Ulster University, and Associate Dental Dean for London Dental Education and Training, has been appointed to represent North East and North West Thames. After graduating BDS in 2000, he spent a year at the Eastman Dental Institute, and successfully completed the MFDS in 2003 and the MFGDP(UK) in 2004. He was awarded the Diploma in Postgraduate Dental Studies from the University of Bristol in 2007, and also holds a PgCert in Medical and Dental Education, a PgCert in Restorative Dental Practice from University College London and an MSc in Implant Dentistry from the University of Warwick. He is a past MJDF Examiner and MFDS tutor, has 14 years' experience as an Educational Supervisor, has mentored numerous dentists to complete restorative and implant cases, and has been awarded Fellowship of the Pierre Fauchard Academy, the Higher Education Academy, the International Congress in Oral Implantology and the International Academy of Dento-Facial Esthetics.
Frances Robinson Assoc.FCGDent, a dental hygienist working in private practice in London and oral health practitioner in NHS community outreach, has been appointed to represent the dental hygiene and dental therapy professions. She completed a Diploma of Higher Education in dental hygiene from Cardiff University in 2015, a Master's degree in Dental Public Health from University College London in 2017, and is an Associate of the Faculty of Public Health. In 2022 she was a Health Education England Oral Health Clinical Transformation Fellow, the first dental hygienist or dental therapist to undertake an HEE fellowship. She was a member, later Chair, of the Dental Hygiene and Dental Therapy Working Group for the Career Pathways Programme which developed the College's Professional Framework for Career Pathways in Dentistry, and was Vice Chair, now Chair, of the inaugural board of the College's Faculty of Dental Hygiene and Therapy. She is an active member of a dental hygienists' study club in London, lectures for HEE and NHS England, and sits on the British Society of Dental Hygienists and Therapists' Diversity, Inclusion and Belonging Board. She has volunteered for a number of dental and medical charities in Nepal, India, Cambodia, Panama and Greece, and is a volunteer officer for Dental Mavericks, for whom she has written a field guide for oral care in humanitarian situations as well as helping them with grant writing and fundraising. Earlier this year she co-hosted a College webinar on how to get involved in dental volunteering.
The elections to the regional seats on the College Council are for three years until June 2026, the appointments to the regional seats are for one year until elections are held in 2024, and the appointments to the role representative seats are for renewable one-year terms.
Other members of the Council are Abhi Pal, Patricia Thomson, Matthew Collins, Subir Banerji, Prof Igor Blum, Maria Clark, Jonathan Farmer, Helen Kaney, Eldo Koshy, Yann Maidment, Ewen McColl, Andrew Parashchak, Kanwar Singh Ratra, Bill Sharpling, Sagi Shavit and Sami Stagnell.
Quentin Jones Assoc.FCGDent has demitted office after serving the permitted maximum of nine years on the College Council and the FGDP national board representing Wales.
Sarah Hill Assoc.FCGDent has demitted office after completing a three-year term representing the interests of the wider dental team. Initially Dental Care Professional Representative at FGDP, then an observer on the College Council from 2021-23, the role has now been discontinued following the appointment to the Council of voting representatives for dental nursing, dental hygiene and therapy, and dental and clinical dental technicians, and in anticipation of the faculties for these professional communities becoming fully operational soon.
Tashfeen Kholasi FCGDent, the previous representative for North East and North West Thames, has stepped down after completing two terms as Vice President.
Louise Belfield Assoc.FCGDent, the previous representative for dental nursing and orthodontic therapy, has stepped down from the Council to focus on her new post as Academic Head of Assessment at Brunel Medical School.
John Stanfield Assoc.FCGDent, the previous representative for dental hygiene and dental therapy, has stood down to focus on the completion of his PhD in on the use of hybrid social learning networks for dental CPD.
The College of General Dentistry is the UK's only healthcare college run by and for oral health professionals, and is unique in welcoming all dental and oral health professionals with relevant postgraduate qualifications into full membership. The Council is the voice of its members, overseeing its role as a professional body and guiding its development to fulfil its mission. Elections are held annually on a rotational basis, with elections for the seats representing South West England, Trent & East Anglia, Mersey & the North West and the West Midlands also due to take place in 2024.
Abhi Pal FCGDent, President of the College, said:
"Many congratulations to Dalip, Debbie, Frances and Victor on their appointment to the Council, and to Roshni and Susan on their re-election. I look forward to drawing on their talents as the College continues to establish itself. I would also like to thank Quentin, Sarah, Tashfeen, Louise and John for their service to the College and former Faculty through the Council and board, in addition to their considerable commitment to our local activity and the establishment of the new faculties."