The College will be the headline education partner for the Enhanced CPD Theatre at Dentistry Show London 2023.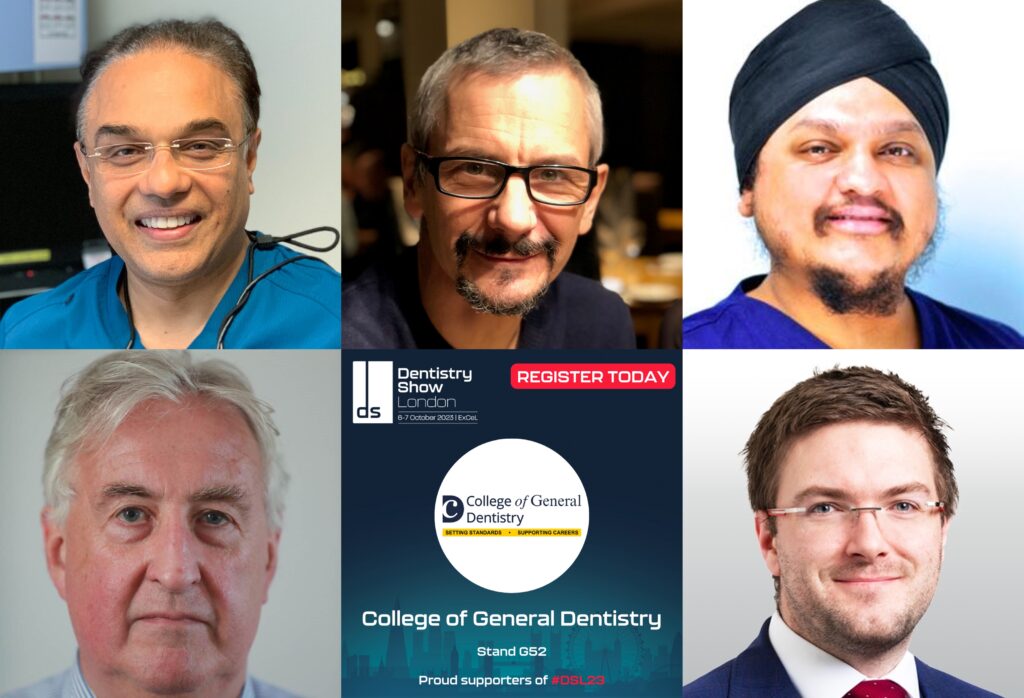 CGDent speakers at Dentistry Show London 2023, clockwise from bottom left: Paul Batchelor, Abhi Pal, Tim Newton, Sukhvinder Singh Atthi, George Wright
The Enhanced CPD Theatre will feature 14 lectures over the two-day conference, with experts in their fields sharing their extensive knowledge, and offering practical advice, on an array of important CPD areas. All lectures will be free of charge for both members and non-members of the College. Five of these lectures will be delivered on behalf of the College:
Sustainability in dentistry and healthcare
Friday 6 October, 9.15am – 10.00am
Professor Paul Batchelor BDS, DDPH, Dip. FFGDP(UK), MCDH, PhD, FCGDent, FDS (RCS Eng.), FFPH; Honorary Clinical Professor, University of Central Lancashire; Honorary Lecturer, University College London; Associate and Dental Group Chair, Centre for Sustainable Healthcare
Record-keeping in the real world of general dental practice
Friday 6 October, 1.15pm – 2.00pm
Dr Abhi Pal BDS, MGDS RCSI, Dip. FFGDP(UK), FDS (RCPS Glasg.), FCGDent; President of the College of General Dentistry; General Dental Practitioner; independent dental expert witness
The mental health and well being of dental staff
Saturday 7 October, 9.15am – 10.00am
Professor Tim Newton CPsychol, AFBPS; Professor of Psychology as Applied to Dentistry, King's College London; Honorary Consultant Health Psychologist, Guy's & St Thomas' NHS Foundation Trust
Managing medical emergencies in the dental practice
Saturday 7 October, 2.00pm – 2.45pm
Dr Sukhvinder Singh Atthi BDS, Dip. MFDS (RCS Ed.), PgCert/s , Dip. FFGDP(UK), MSc Oral Surgery, MSc Orthodontics, FCGDent, FHEA, ILM; Lecturer in oral surgery, University of Birmingham; Tier II-accredited oral surgeon
Complaints handling: a step-by-step approach
Saturday 7 October, 4.30pm – 5.15pm
Dr George Wright BDS, Dip. MJDF, PgDip (DLE), ACIArb, Cert CII (Claims), FFFLM, MCGDent, MDTFEd; Deputy Dental Director, Dental Protection; Chief Examiner, Faculty of Forensic and Legal Medicine, Royal College of Physicians
Full details of all the College lectures are available via the above links, and details of the full programme for the Enhanced CPD Theatre and other theatres are available here.
College representatives will also be available throughout the conference at Stand G52 to talk to attendees about all aspects of membership, fellowship and the College's vision for the profession.
It is not possible to register for any specific lecture in advance, however those wishing to attend will need to register for Dentistry Show London 2023, which is free for all dental professionals. Conference attendees will have access to over 100 CPD lectures in all, as well as 180 exhibiting suppliers, and the opportunity to network with over 3,000 dentists, practice managers, hygienists and therapists, dental nurses, technicians and laboratory owners.